There's a few things you can rely on in this life. The sky will be blue, the sun will rise, the birds will sing, and Louis Tomlinson and Zayn Malik will fight on Twitter.
Granted, we haven't seen the bromance formerly known as Zouis trading barbs in a while — let's all take a moment to remember this sick burn from 2015:
@Louis_Tomlinson remember when you had a life and stopped making bitchy comments about mine ?

— zayn (@zaynmalik) May 6, 2015
Oh god.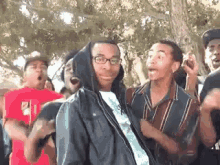 Anyway, the boys are apparently back at it, and it's all down to Zayn's new song "Good Years", which fans ~think~ might be about his time in 1D, specifically his old mate Louis and that very fight from 2015.
The lyrics go:
The voices screaming loud as hell / We don't care 'bout no one else / Nothing in the world could bring us down / Now we're so high among the stars without a worry / And neither one, one of us wants to say we're sorry. 'Cause now the whole damn world will know / That we're too numb and just too dumb to change the story / Neither one, one of us wants to say we're sorry
Hmm. I mean they're not damning or anything, but fans were convinced.
Is Zayn's new song, Good Years, about 1D ❓❓❓❓ pic.twitter.com/wo6jA8TxMc

— nejma (@POSTBADLARRIE) December 6, 2018
When Zouis smoked joint together…
When they were having that crazy fight on twitter and neither wanted to say sorry to each other but they still loved each other. And zayn had to put the stupid fight apart and support louis when louis' mama passed away. Bye https://t.co/SYD7kCbSaS

— Aisha ???? (@thelouangel) December 6, 2018
zayn wrote these lyrics about louis apparently and louis subtweeted him pic.twitter.com/JTB0AMQB20

— kate (@oddaegu) December 6, 2018
Me all day today thinking only about Zayn, Good Years' lyrics, Zayn and Louis, his history in the band and how not to breakdown over it pic.twitter.com/8kh5HLufTf

— ٓ (@LarryLand__) December 6, 2018
It doesn't help that spicy little Louis tweeted this little number at the exact same time everyone was discussing the intricacies of the lyrics:
Proper confused. What a hypocrite!

— Louis Tomlinson (@Louis_Tomlinson) December 6, 2018
And now the fandom is convinced that a full-on beef is about to ensue.
*completely invested in bts & over 1d*

[louis and zayn fighting]

me: pic.twitter.com/pih0r2lEg1

— ???? (@420BLUESIDE) December 6, 2018
harry louis and zayn really are as stubborn as the fanfics make them out to be huh

— bella (@stylesscreature) December 6, 2018
me trying to understand what did zayn do that made louis cancel him from his life pic.twitter.com/uT445WmGNU

— imma ❯❯❯❯ THANK U NEXT MV IS OUT (@niallvran) December 6, 2018
This one sums it all up pretty well, I feel:
louis: Proper confused. What a hypocrite!

zayn:

louis: pic.twitter.com/Mh2l6h7oSC

— ???????????? ◟̽◞̽ (@njhlittle) December 6, 2018
While there's yet to be any more movement on this, we will of course keep you posted if Zayn claps back. In the meantime, I'll be over here.
Image: Getty Images / NurPhoto