PEDESTRIAN.TV has teamed up with Thirsty Camel to quench your wine craving.
As a walking people-pleaser who never gets into fights and was raised on reality TV, I froth any drama kicking off on my screen. Today we're reining in that chaos by looking back, purely on some wild wine throws – a staple of the genre.
Before we rank some of  the spiciest wine throws on TV, we need to say, obviously, that we don't condone this kind of aggressive behaviour. For the love of grapes, go take a time-out and then have a quiet chat outside.
On a less serious note, not only is hurling a glass of vino shocking and potentially staining, it's an absolute waste of wine. These production crews certainly have their work cut out for them having to replace every flying glass of cab sav or pinot grigio.
Call us crazy, but around here, we prefer our plonk sipped instead of chucked. So, before we look back at some of the buck-wild wine throws that have gotten onto our screens, get comfy and settle in with a glass of vino (to drink) as we go through 'em. If you're all out of wine, swing by Thirsty Camel to grab a fancy or heaps-cheap bottle, depending on what your vibe is. I'm the latter, but good on you if you're the former.
Now that that's sorted, buckle up. We're going back through the archives from least to most wild wine throws, and spoiler alert, it's heavy on the Housewives…
7. Married At First Sight Australia – Martha Kalifatidis & Cyrell Paule
Yeah that's right, we're starting local. From Martha's villain edit to cheating scandals, 2019 was an iconic season of Married At First Sight Australia. But, of course, nothing compared to this shocker of a moment. Cyrell was shouting at Martha and her groom Michael (who she's still with, bless up), at one of those disastrous dinner parties.
"I'm gonna pour my drink on her," Martha said calmly before walking over (in all-white, bold move) and pouring the wine on Cyrell. A huge moment in Aussie TV history.
6. The Real Housewives of Beverly Hills – Eileen Davidson & Brandi Glanville
This one makes me giggle because it's so ludicrous. There's no heated argument in the lead-up, Eileen just refused to re-enact a Days of Our Lives scene with Brandi. Honestly, how dare she? Then, a bit like Martha in MAFS, Brandi calmly said she was going to throw her drink before getting down to it. Weird. Anyway, she takes one last sip and then tosses it at Eileen, before having a good old chuckle to herself.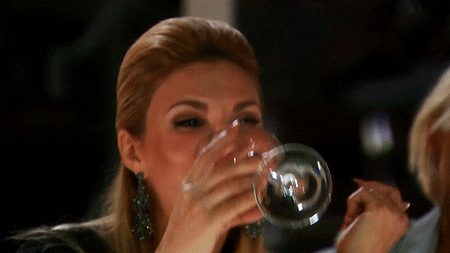 5. Married At First Sight Australia – Cyrell Paule & Jessika Power
Told you this season of MAFS was hectic. We have another wine throw. This time, Cyrell took the glass into her own hands at the reunion dinner party and chucked it over the other villain of the season, Jessika.
Lucky, it wasn't a red that covered Jess and her white dress.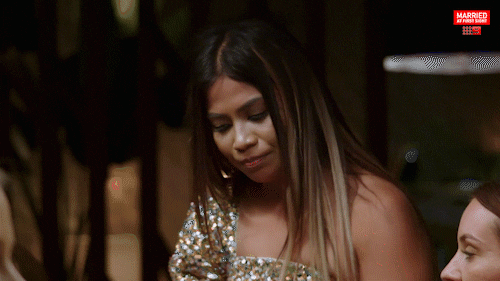 4. The Real Housewives Of Sydney – Athena X Levendi & Victoria Rees
Some more Aussies coming in hot and taking things up a notch, too. Before we even get to the throw, there's a napkin hurled (surprisingly hard?) Athena's way, courtesy of Victoria. Next, not one, not two, but three wine glasses are thrown. Not just the grapey goodness inside, the actual glasses get shattered. Yikes.
Apparently RHOS was cut for being too intense and honestly, not surprised…
3. The Real Housewives Of New York – Ramona Singer & Kristen Taekman
An alfresco throw! This one is extra chaotic because it all goes down on a canoe. Ramona is having a gossip about Kristen while in said canoe, while Kristen is having a paddle in the lake. She overhears and swims over to splash Ramona. Apparently splashing is a big no-no because Ramona then throws her wine at Kristen, followed by the empty glass.
Later when they argue about it, Ramona justifies it with the iconic, "Who are you to get me wet?".
2. The Real Housewives Of Beverly Hills – Lisa Rinna & Kim Richards
This one is so wild, it makes me a bit nervy when I watch. This lovely dinner in Amsterdam erupted into chaos when Kim brings up Lisa's husband. Obviously, that hits a nerve.  There's a lot of yelling and finger pointing before Lisa throws a glass on the table. Eek.
1. The Real Housewives Of New Jersey – Teresa Giudice & Danielle Staub
In the finale of season one of RHONJ, Teresa has a dinner party for pals. During a routine, heated argument, Danielle tells her to "pay attention" which angers Teresa to the point where she flips the whole table. Controversial because she technically didn't throw the wine herself, but every single glass went flying and shattered, leaving red wine stains all over the tablecloth. It's so wild. Even wilder is it happened way back in 2009, but is still one of the spiciest moments in reality TV.
Yikes, that was intense. I'm off to go hug my friends and drink from a plastic cup…
Image: Real Housewives Of Beverly Hills