PEDESTRIAN.TV has teamed up with Warner Bros. to get you excited for Bones and All, hitting cinemas November 24.
This is what it's all been coming to my friends. All those years of spreading the good word about Timothée Chalamet for mates who didn't get the hype has been building to this moment. Today is the day to let it all out, nay, scream it all out from the rooftops.
Now, we're not just asking you to share your love for Timmy for the fun of it — otherwise, it'd be a regular day for you, am I right?
WIN: Pour Yr Heart Out For Timothée Chalamet & We Might Sling Ya Tix To His New Flick 'Bones And All'
It's all to celebrate the release of Timmy's new movie Bones and All. To go into the running to score two tickets to an early screening of the flick, all you have to do is tell us (in 25 words or less) why you love Mr Timothée Chalamet. Easy, right? If you're worried about clocking in at 1000 words, I've prepared some succinct inspo for you based on the essays I imagine you'd write:
"Timothée Chalamet, or as I like to call him Lil Timmy Tim, is a wonderful rapper, actor and the king of street style." (23 words)
"Timothée Chalamet is one fine-ass specimen and he can eat my bones and all any day." (16 words)
"Timmy is Gen-Z's answer to Tom Hanks. An absolute babe who will one day have his Oscar moment." (18 words)
Feel free to steal those for yourself and chuck them into the form above. You're welcome.
The film follows Lee (Timothée) and Maren (Taylor Russell) as they head on a road trip through the back roads of America. And, while it's a beautiful coming-of-age love story, it also happens to be a shocking horror. What a combo!
Strange premise? Yes. But it is directed by big dog Luca Guadagnino (Call Me By Your Name) and has already picked up some awards in Venice.
Have a peek at how cute Timmy and Taylor look in it: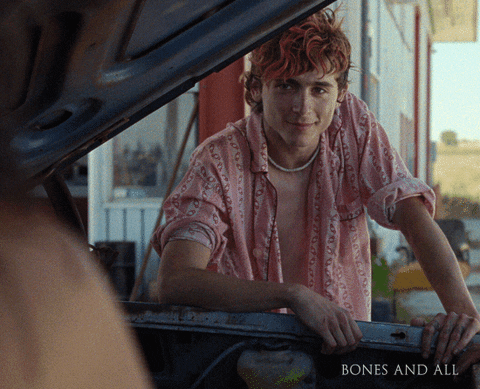 I simply don't understand how this sweet little duo can get ensnared in any horrifying shit? These precious little babies are just hitting the road and following their hearts!
Anyway, Bones and All is in cinemas on November 24 if you're brave enough to see how it descends into horror. In the meantime, peep the trailer below and keep preaching the good Chalamet word.
Image: Bones and All