Remember start-ups? Remember people re-inventing businesses that already exist but under different names so that they can subvert existing labour laws and regulations? Well, the spirit is still alive and well with Podshare, a US-based company that has reinvented hostels as extremely expensive living cubes that would almost be like living in a prison, except in prison they provide all of your meals.
[jwplayer wrHlZH9I]
Podshare runs a number of locations across Los Angeles and San Francisco, ranging in price from US$850 to $US1200 a month (roughly $1,240 to $1750). That cost gets you one pod in a room full of pods. In this pod, you will find USB ports, some cupboards, sheets, a towel, and a "personal night light". There's wi-fi, shared computers, and, in some of them, even a TV room. They look, for the most part, like this:
Pictured: It's bunk beds, but with an inexplicably photoshopped-in dinosaur.
So, alright, you're forking out a lot of money to share a room with a whole lot of strangers, but you get to be in a cool part of town you might otherwise be priced out of. You don't have to pay a deposit. You don't have to sign a lease. Heck, there's even free food on Sundays. How bad could it be?
Well, as Vice reported back in 2016, you cannot fuck. 'No fucking in the pods!' they will tell you. You also cannot wank: One of the rules of PodShare is that they explicitly do not permit "covering the pods for privacy". Pulling a curtain across your pod so that you can have at least 8 hours without being gawked at by half a dozen app developers? Out of the question. You must be entirely visible to everyone at all times, even when you sleep.
On top of not being allowed to get hammered in your own goddamn 'home' ("Excessive inebriation is inappropriate and will not be tolerated"), it costs $15 per person — per day — any time you would like to have a friend come around and visit.
Maybe this is tolerable if you are doing it for a few weeks or a month or so as you try and find a long-term housing situation that doesn't, say, fucking suck ass like this, but they also say that a "vital part" of the Podshare customer base is "longer term guests between 30 days and a year".
Fuck. That.
Podshare is not new — they've been kicking around since 2012 — but every now and then they manage to pop into the conversation again and remind people that they are, in a few words, very bad.
This time it was a tweet from Los Angeles City Controller Ron Galperin, which was accompanied by photos of Galperin and Podshare founder Elvina Beck in a room that looks like if a quirky Melbourne coffee shop and a jail had a car accident: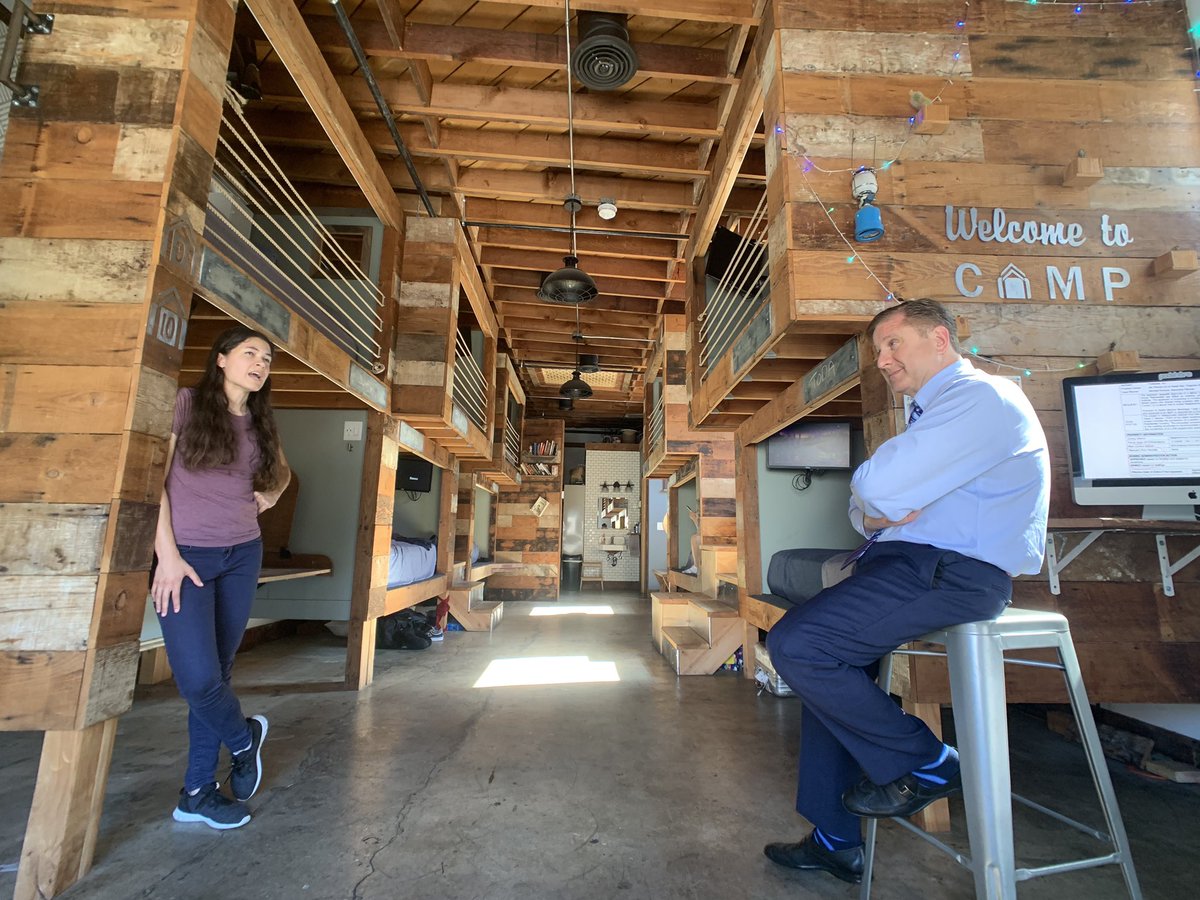 Pictured: The cold, cold floor of not-all-that-affordable-actually affordable housing.
Unsurprisingly, people on the internet, as they are wont to do, had some opinions about this:
https://twitter.com/JohnMotter/status/1171123737564835842
are those fuckin bunkbeds

— Brandy Jensen (@BrandyLJensen) September 10, 2019
https://twitter.com/figgled/status/1171272076986073090
https://twitter.com/jackallisonLOL/status/1171159494648201216
Love to fall asleep listening to a dozen people quietly weeping and furtively whacking

— Civil Snake 💎🐺 (@mediumbigboss) September 9, 2019
https://twitter.com/somebadideas/status/1171250329209442310
I too hate humans and wish to warehouse them until they trouble me no more

— father figure (preacher teacher) (@zestydaddy) September 9, 2019
Finding alternative methods of high-density housing will almost certainly play a part in building a more sustainable future, but god damn, there has to be a way to do it where you don't have to pay through the ass to live in a combination of a panopticon and a school camp.