As we know, man it was a hot one in Sydney yesterday. The NSW heatwave smashed a 79-year-old record for highest temperatures with Western Sydney's Penrith hit 47.3ºC in the mid-afternoon. It was a bloody scorcher, folks, and everyone was desperately trying to keep cool.
It was almost as if this were, indeed, us.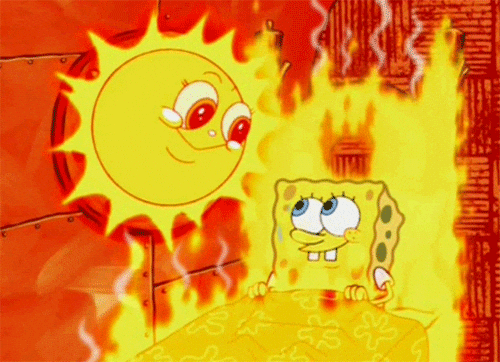 Us humans weren't the only ones feeling the heat – many pets and native wildlife were seeking out somewhere out of the blistering heat to get a bit of a break.
Pets and wildlife were relying on their human friends to give them water, ice, and shade to cool off in, with many snoots getting into eskys, buckets full of water, and shaded areas to get the hell away from the giant ball of fire in the sky.
Here's a bunch of very warm, very precious animals who tried their hardest to chill out over the weekend, and they're all very thankful their humans helped out.
https://www.instagram.com/p/BdqNA1lhG47/
The Rainbow Lorikeets are going nuts in my birdbath this afternoon! It was 45.7C at Camden today and I think it got to around 42 degrees where I am, is still bloody hot! #heatwave #weather #sydney #sydneyweather #SydneyHeat #birdphotography pic.twitter.com/XOzT8STBGv

— James One😷 (@james00000001) January 7, 2018
https://www.instagram.com/p/BdmN86qBaxg/
Puppy Orph has this hot weather sorted #sydneyweather #SydneyHeat pic.twitter.com/pKYSF5tjKO

— Hans Orph 🇺🇦 (@HansOrph) January 7, 2018
It's important to remember that there's so many animals out there that struggle to survive during really intense heat – so if you're able, leave a bowl of water out under a shaded area or better yet freeze a bowl of water and leave it out for any thirsty animals out there. Take care of your pets – test that concrete isn't too hot for sensitive paws, take 'em for a swim, give 'em something cool to lie on.
Stay safe, stay hydrated, stay floofy.
If you come across any wildlife that are in desperate need of help and medical attention, please contact WIRES on 1300 097 737, or if you're able to, safely take the animal to your local vet.