A little while ago you might have wrapped your peepers around a series of viral-ish cartoon caricatures that turned all yr favourite hip hop, pop, and r&b types into characters from various animated shows such as 'The Simpsons'.
If you need a lil jog of the ole' memory, here's Drake as the eternally unloved Milhouse van Houten.
He's got enemies. Got a lot of enemies. (Nelson, Jimbo, Kearney, Dolph, etc).
They were all the work of a German graphic designer by the name of Zhi-Yun Zhang, and they were all decidedly badass.
And while that was a good time and all, there's not a chance we here in the merry old land of Aus could let the rest of the world bogart all the fun without getting in on it for ourselves.
Gig app Whatslively contacted the German artist and asked about a collab that would see some Aussie artists put into Springfield. Zhi-Yun agreed, and now we have these entirely dope interpretations of both pocket powerhouse Tkay Maidza and everyone's favourite ginger Chet Faker as card-carrying members of the Northern Kentucky town.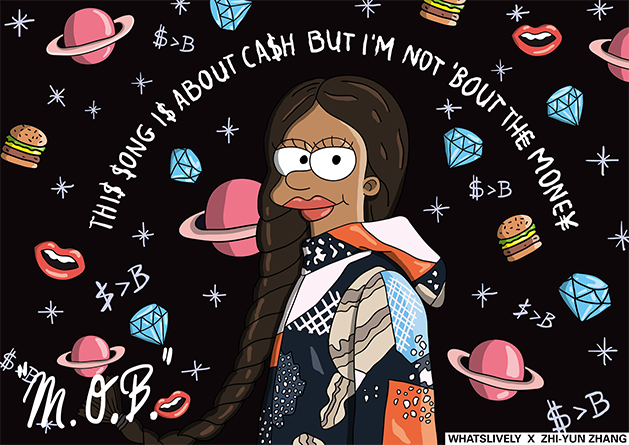 Feel like winning a shirt with one of these rad AF images on them? Get involved
with the free Whatslively app
before August 30th and you might just score yourself one of a very limited run of thirty shirts.
Better still, the collaboration is not going to end there. Zhi-Yun is reportedly circling other Australian artists such as Alison Wonderland, Flume, and Peking Duk as the next in line for a one-way ticket to Evergreen Terrace.
Everything's better with The Simpsons. That's a fact of science, dear friends.
Source: Supplied.