Look I didn't think it was possible that Christmas could get any more…christmassy. But EGOT winner (Emmy/Grammy/Oscar/Tony), husband of our fave gal Chissy Teigen, and one-time Curb Your Enthusiasm cast member John Legend is putting his hat into the ring, sleigh bells and all.
Yes, it's called A Legendary Christmas because literally, no other name would be good enough for this incoming piece of fine, festive art. Plus he's celebrating it with a huge, nay, legendary, tour of the US in November and December.
Michael Bublé better watch his fucken back because John Legend is about to run rings around him atop a reindeer covered in holly and mistletoe, scattering candy canes out to all of us plebs, with hot cocoa and marshmallows and snow lightly falling, with the smell of hot fresh gingerbread in the air. Sorry, where was I?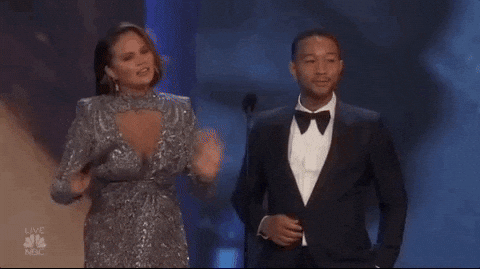 From the snippets we've seen, Legend's family took part in the photo shoot for the album, with Chrissy in a head full of rollers and the two bubs Luna and Miles rolling around on the floor. You know, exactly what everyone's Christmas looks like and definitely not the four of them napping on the couch in a food/drink coma because they started eating carb-laden dishes at 8am.
Legit though, this is a WELL-DRESSED family and Legend copped the gong for GQ's Most Stylish Man, so expect some serious Sinatra-sipping-cognac-by-the-fire vibes. Some real smooth-jazz-and-eggnog bullshit, folks.
The album's officially out on October 26 and you better believe I'm going to be kissing Santa's ass for the rest of the year in hopes he'll drop a copy in my stocking this year. And hey, there's Chrissy presents sorted for all your extended family who normally gets socks and jocks, too. Talk about a win-win.
Image: Getty Images / Karwai Tang