The future of music is here, mates, and its name is Billie Eilish.
By industry standards, the 17-year-old pop prodigy has essentially only just stepped onto the scene but she's already proven that she's got the showmanship and professionalism of a musician two, three, four times her age.
Her debut album, When We All Fall Asleep, Where Do We Go? was met with universal acclaim from critics, with many praising her sassy lyrics and ethereal vocals.
I've read so many articles and reviews where journos write something to the effect of, "Billie Eilish is so good… for her age."
I completely disagree with this sentiment. Her age shouldn't be viewed as a hindrance on her talent that she's somehow overcome but rather the driving force to her overall spirit as an artist.
That fresh, spunky attitude that she effortlessly gives off is what makes her great and it's something that many of her fellow artists have failed to convey with such ease.
In an industry full of try hards, Billie Eilish is the real deal.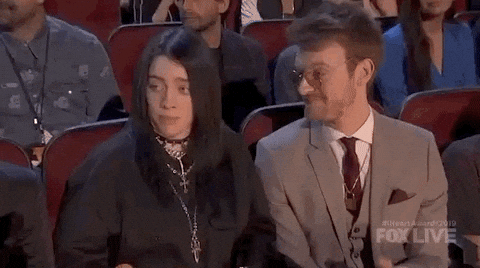 I SAID WHAT I SAID
As I'm sure you're aware, we were recently in the presence of greatneess as Billie embarked upon a nationwide headline tour and performed at Maitland's cool kid festival Groovin The Moo.
Again, considering the girl only has one album out, it's pretty damn phenomenal that she was able to sell-out her entire Aussie tour in mere minutes.
Not only that, but each performance was met with glowing reviews from both critics and fans.
Treat your eyes to some of the epic snaps from her show at Sydney's Hordern Pavillion below:
Credit: Paigge Warton (@paigge)
Credit: Paigge Warton (@paigge)
Credit: Paigge Warton (@paigge)
Credit: Paigge Warton (@paigge)
Her fiercely loyal group of Aussie fans, many of whom had queued up for hours at their local venues across the country, were reportedly reduced to tears during the show.
One Melbourne-based fan required medical assistance during a Nova Red Room performance which resulted in the show being halted before Eilish returned to the stage and said, "That's so fucked up, I'm really sorry about all of that."
Adding, "She's OK. You guys mean the whole world to me. Please drink water, please eat, please take care of yourselves."
You see, Billie cares about her fans. They're not just numbers in the crowd or followers on her social media, she truly, deeply cares about them, which is why it was so unfortunate when one fan violated the musician by groping her at a meet-and-greet.
Following the incident, the singer took to her Instagram Stories to kindly ask fans to respect her space.
Credit: Instagram
Not only did she handle being violated by an absolute garbage human with dignity and class, but she also refused to let the extremely unfortunate encounter throw off the rest of her trip.
I was granted with the ~supreme~ honour of sitting in the audience during her appearance on The Hit Network's Ash London Live where she performed, nay, SLAYED an acoustic rendition of a few of her bops alongside her immensely talented brother Finneas O'Connell then took photos with fans.
Ya see? Cool as a cucumber (that's me on the right BTW, I didn't get the yellow memo…)
Considering the heinous violation she had experienced less than 24 hours prior, she would have been totally forgiven for canning the photo portion of the program but nup, she went right ahead and took those damn pics, and ya know why?
Because she's a goddamn pro.
A legend.
A superhero.
Credit: Hit Network
Credit: Hit Network
Credit: Hit Network
Billie, on behalf of Australia, thank you for blessing us with your presence.
Pls come back soon x
Listen to Billie Eilish get live and up close on Ash London Live tonight on the Hit Network from 6:30pm.
If you vibe on Billie's sick style and you wanna know more about streetwear, have a little listen to our Sneak Up podcast with the team from Homie and Any Means below.
Image: Paigge Warton