Yes, that's right you frivolous money wasters you. A recent survey of over 1000 consumers by Dodo has revealed that 60% of us are spending an average of $240 each every year on stuff that we don't need and don't use. That added up to a combined total of $4.6 billion that our country wastes each year. That is Australian economy news you just don't want to hear. Imagine all the good things we could do with that money!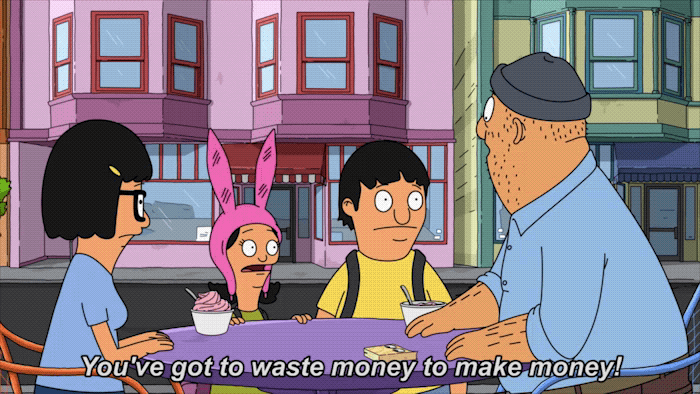 What are we spending it on? Of everyone who admitted to wasteful spending, 3 in 5 confessed it was mostly about buying too many groceries that just went rotten before they could get to it. The second highest money waster was clothing, shoes, and accessories. Aka. 37% of people wasted money on fashion darlings, fashion. Further proof not to buy anything on those random days when you're feeling super fab about yourself and therefore convince yourself you can totally pull off 'that' look only to discover in a more normal state of mind that you really just shouldn't. Or is that just me? Not surprisingly beauty and grooming products were also named, as well as unused phone credit.
And while the blame falls fairly evenly on both the sexes, women do slightly edge out men at 62% admitting to buying something they never ended up using. Having said that, male respondents to the survey spent $40 more each year on goods and services they never used than women. They're also more likely to waste money on entertainment like music streaming apps, television streaming subscriptions and seasonal sports tickets then never use them
Finally, in a fact I personally find delightfully ironic, Baby Boomers are the most likely to let groceries go to waste, sitting at 67% of survey respondents in this age group admitting to it.
So what does this wasteful spending say about us as a society? Dodo's General Manager for Marketing and Sales Andrew Wynne reckons it's because we're a little TOO desperate for a good deal.
"We know that Aussies want value for money, but the survey has shown us that sometimes, while we spend with good intentions, certain items end up unused or in the bin."
If this info hasn't been enough to shock you, maybe give the below a gander and stare woefully at your bank account?