Queer Eye S2 is fast approaching and to make the wait even more deliciously painful, the Fab Five have unleashed a music video with Australian singer Betty Who. 
In the highly anticipated season two, we will see the show's first transgender makeover. Tan told the Press Association this episode was the one he was most proud of because he had learnt so much about the trans community.
"I had never interacted with a trans person before, I'd never met a trans person before. And so it gave me an opportunity to ask questions that I have never been able to ask before…  I'm ignorant, I don't know what I can do to support the trans community. What kind of questions do you never want to hear again? Those kinds of questions were really helpful, for me and the audience."
Friends, I'm already crying.
As for the video – Betty, who blessed us with the tune I Love You Always Forever (you honestly can't read those words without singing the song) collaborated with the Fab Five in her own remix of the series' theme song.
PRIDE IS HERE! Check out this video below that I did with @QueerEye ❤️???????? https://t.co/LUmNcCrgiQ

— Betty Who (@BettyWho) June 1, 2018
The music video includes everything we've come to fiercely love about the boys. There's Antoni cradling a bunch of avocados because of the many lessons we took away from Queer Eye, two of them is how to properly cut an avocado and the ingredients for a bomb guac.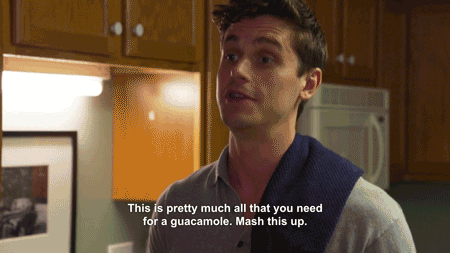 Then there's Tan being absolutely gorgeous with his perfectly styled hair and Karamo with a bunch of tissues because one look into his deep eyes and you start crying and confessing your insecurities. We can't forget Jonathan and his exceptionally silky hair and of course Bobby dancing about.
I'm sure if the video was longer then we would have seen a clip of Bobby going ham on a living room in need of TLC.
Right at the end of the video we also cop a view of the newly bejewelled Fab Five truck.
Enjoy:
Oh yeah, not to alarm you or anything but the Fab Five are headed down to Australia to promote the series come June 6 (FIVE DAYS) to June 9.  Without a doubt they'll be everywhere for those three days so don't stress if you can't see them in the glorious flesh. Just think radio, breakfast TV, evening programs, and social media – you won't miss them, we promise.
Queer Eye returns to our screens June 15, lock it the fuck in.
Also, Antoni is the only person to pull off a cropped hoodie t-shirt (???) thing ever.
I cry.
Image: Youtube / Netflix