The Golden Globes were on Monday and the biggest takeaways from the night were all the amazing #TIMESUP moments, like the women rocking fire black dresses in solidarity, Oprah's majestic speech and the allegations against James Franco that surfaced after his win.
So when Amazon's The Marvelous Mrs Maisel, a show barely anyone has ever heard of, took home Best Comedy Series and Best Actress in a Comedy Series (beating the likes of Master of None, Will & Grace, Alison Brie and Issa Rae) it was just a semi-noteworthy blip in a very eventful night.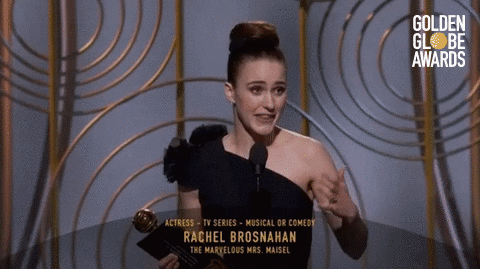 I for one was intrigued by the win – the Globes tend to dish out left-field awards for first-season comedies (see also: Brooklyn Nine-Nine/Andy Samberg in 2014, Mozart in the Jungle/Gael García Bernal in 2016) and quite often they are on the money. So when I was struck down sick at home on Wednesday, I decided to refresh my lapsed Amazon Prime Video subscription and give the first episode of TMMM a go.
Eight episodes and a good chunk of my sick day later, I'm here to tell you that you simply must watch it, because it's bloody tops.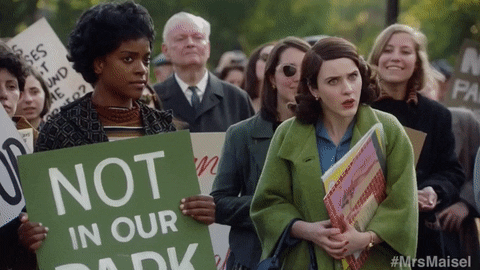 Aside from the Globes recognition for both the show and the lead actress, Rachel Broshanan, I was drawn to the series because it's the latest offering from Amy Sherman-Palladino and Daniel Palladino the husband-and-wife geniuses behind Gilmore Girls.
Created by Amy and co-executive produced and written by Amy and Daniel, I had high hopes that the dialogue would be snappy, the jokes funny and the heroine relatable. And, my friends, I was rewarded.
The show's story is centred around Miriam "Midge" Maisel, a twentysomething 1950s housewife living on Manhattan's Upper West Side.
OKAY I'M HOOKED ALREADY was my reaction to that setup, but I'll continue in case those particular keywords don't grab you.
Midge is an extremely funny lass, but since it's the 50s her talents are wasted on being quippy in the kitchen, being quippy to her mum and dad (who live downstairs and are classically neurotic Jewish parents, played by Tony Shaloub and Marin Hinkle), and being quippy to people at the deli.
She's super supportive of her husband Joel's (Michael Zegen) burgeoning stand-up comedy career, but a TURN OF EVENTS (no spoilers here) sees her taking to the stage herself. And of course, she totally kills it.
The first season sees Midge honing her brand of brash, ahead-of-its-time comedy and together with her manager Susie (Alex Borstein) attempting to navigate the man's world of stand-up comedy. If you thought it was male-dominated in 2018, spare a thought for the funny gals trying to make it in 1958.
There's plenty of interesting insight into feminism, censorship, sexism, race relations and the Jewish experience, but it's all wrapped up with a very likeable main character and heaps of fast-talking, quippy humour. All the supporting cast are amazing too, especially Borstein (who also voices Lois on Family Guy).
If you hate Gilmore Girls, then please close this article and we'll never speak of TMMM again. But if you love GG and the Sherman-Palladino's other show Bunheads, you'll love their new one. And since it's on streaming not American telly, there's plenty of "fucks" thrown into the mix.
It's already been renewed for a second season, so feel free to get TOTALLY invested because there's more where that came from.
The Marvelous Mrs Maisel is currently streaming on Amazon Prime Video, while you can find all of Gilmore Girls on Netflix.
Image: Amazon / The Marvelous Mrs Maisel