Confession time straight off the bat here. I have an apparent kink for actors named Chris. I mean, it's just a coincidence (because it's a super common name) that four of the most popular / successful actors going around at the moment are all called Chris, but it's surely NOT a coincidence that they're all so damn loveable, funny, and yep, I'm going there – handsome.
I know that I'm going to get done for being sexist in this story and "objectifying men", but I've been a woman for all of my 30-odd years on earth and let me tell you blokes, it's not an entirely pleasant experience. So you can either cop a light amount of objectification in this informative story or you can have your period once, your choice.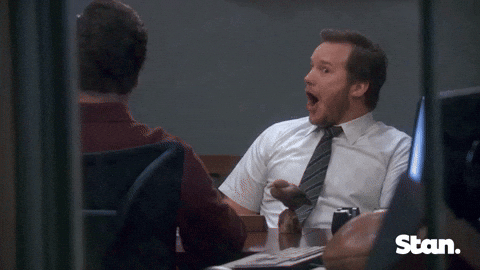 Okay, now that disclaimer is out of my system, let's move on to the real reason you clicked on this yarn: you, too, love the Chrises and you want to watch shows and movies that they are in. No judgement here, because obviously I have been there myself. And you're lucky you have me, because I'm going to guide you through all the Chris-related content currently streaming on Stan. You're welcome, thirsty pals.
Chris Pratt
Controversial take, but I believe Mr Pratt is the greatest Chris of all. Don't @ me, I won't listen. You can keep your Hemsworth and just give me Chris Pratt. He is a delight in every film or TV show he appears in, and even seems delightful IRL (which isn't always the case with these Hollywood big shots). So yes, I love the Pratt and he also leads the charge here with four bits of content to watch.
Babes in space. What the hell else could one ask for in a film? Guardians of the Galaxy is an absolute standout in the Marvel megaverse 'coz it's got everything that makes Marvel great all wrapped up in one spectacular flick.
You've got more jokes than you can handle, kooky creatures (including a talking raccoon and an adorable tree), GRL PWR via Zoe Saldana's gorgeous green character and best of all lotsa snacc-worthy CHRIS PRATT.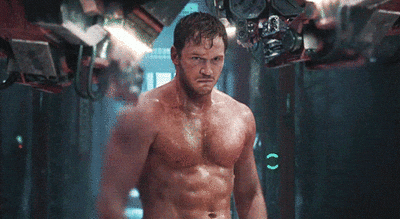 "Wait, Chris Pratt was in The OC?!" It's a common reaction, folks – and he most certainly was. Sure, he's only in the fourth season of the noughties classic, playing Ché, a hippy-dippy Brown University student who is deeply into Summer (Rachel Bilson) and even follows her back to Cali (stalker much). But his nine glorious episodes are a wonderful excuse to binge this show from Season 1. There's nothing more iconic that the foursome of Seth (Adam Brody), Ryan (Benjamin McKenzie), Marissa (Mischa Barton) and Summer, after all.
*sings* We've been on the run, driving in the sun, looking out for number one…
So yes, Pratt was in The OC briefly, but Parks and Recreation is the show that shot him to fame. His character, Andy Dwyer, was only supposed to appear in Season 1, but fans enjoyed the loveable doofus so much that the show's producers kept him in. And we're so glad they did, because he is like a human labrador.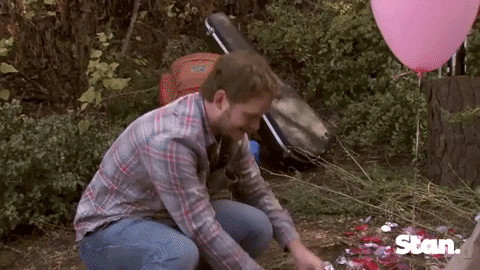 If you've never watched this show before, you are in for a treat – for anyone who has ever worked, well, anywhere it's entirely relatable. The writing is genius, the cast (including Amy Poehler, Nick Offerman, Aubrey Plaza and Rashida Jones) is top-notch, and you will absolutely love every single character.
Zero Dark Thirty
If you thought Pratt only got ripped for his lead role in Guardians of the Galaxy, you're wrong. He originally shaped up to play a Navy SEAL in this based-on-true-events film, directed by Oscar winner Kathryn Bigelow. His character is a key part of the team tasked with uncovering Osama Bin Laden's hideout, and aside from Pratt's buff self the movie also boasts Aussie Joel Edgerton and an Oscar-nominated performance from the always-brilliant Jessica Chastain. A+ stuff.
Jennifer Lawrence + Pratt + space = cinematic gold. Fine, so Passengers got kinda mixed reviews but let's just focus on the fact that we adore these two people and they're both in the movie for maximum time since they're the only two people awake on the entire spaceship.
Chris Hemsworth
My second-favourite Chris is the Aussie one, Chris Hemsworth. He is just another fabulous larrikin of a man and honestly I'm so proud to call him our own. "Aussie Aussie Aussieeee" and all that. Most people know Hemsy from his superhero stuff, but I found a coupla lesser-known works on Stan.
Arguably the best Thor flick of the bunch, Ragnarok is a must-watch for a variety of reasons. Not only is it an absolute comedic masterpiece with a sick storyline, but it boasts an A+ cast including Tom Hiddleston, Cate Blanchett, Idris Elba, Jeff Goldblum, Tessa Thompson, Mark Ruffalo and Anthony Hopkins.
Not to mention the fact that our boi Chriso Hemso flew back Down Under to film the flick in Sydney and Brisbane so basically it'd be unAustralian not to suss this one out.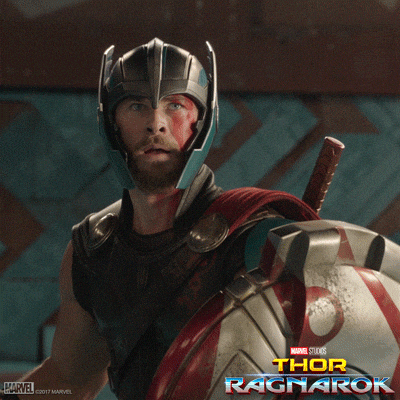 This 2012 horror movie is actually really fun – it's Hemsworth and a bunch of no-name actors (sorry, but I recognised practically no one else in this movie). It tells the tale of a group of American college students who go stay in, er, a Cabin in the Woods, but they don't realise that said cabin is smack bang in the middle of an area where two mysterious scientists are conducting ~experiments~. I won't say any more, but all hell breaks loose and the end result is in equals parts funny and weird.
Red Dawn
This 2012 movie is a remake of the 80s film (which is also on Stan), featuring a group of young whippersnappers who must step up and defend their American hometown from a North Korean invasion. Red Dawn is mainly worth watching because it teams Hemsworth up with his ex-girlfriend (and fellow Home and Away star) Isabel Lucas and how awkward must that have been for them?
In The Heart of the Sea
Full disclosure I have not seen this movie because I have a pathological fear of whales and from what I can tell, it's all about a giant whale that screws with a bunch of old-timey sailors and wrecks their ship, forcing them to survive in harrowing conditions. If that's your kind of thing, you'll probably love this movie but I'd rather watch The Cabin in the Woods 700 times, thanks.
Chris Evans
I do love Chris Evans, but he seems less zesty than the first two Chrises. Maybe a bit more square? But very likeable all the same. Evans has two films on Stan, and they're both really enjoyable so you will NOT regret tuning in.
While I'm aware that Chris Evans isn't the only Chris in this 2018 blockbuster (Hemsworth and Pratt also star as their Marvel heroes), Captain America really shines in this one as the leader of the Avengers.
After becoming a fugitive in the previous movie, Captain America triumphantly returns to lead his group of warriors into battle against the all-powerful Thanos.
I saw this flick three (3) times in the cinemas upon its release and in each session, Cap's first scene in the flick scored a Hulk-level cheer and applause.
Plus the battle at the end is truly something else.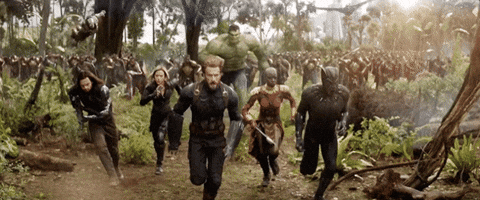 Cellular
Look, I watched this movie on a plane once and it managed to keep me occupied for a few hours, so I appreciate Cellular for that. It stars Kim Basinger as a woman who gets kidnapped by a baddie (Jason Statham) and his crew of other baddies. When she's cooped up in the spot where they've stashed her, she manages to find a mobile phone (what are the CHANCES!). It's semi-busted, but she connects with a cocky young fella called Ryan (Evans) and begs him for help. Of course it's then a classic race against time to save her.
Now this is a great movie. This underrated gem was directed by acclaimed South Korean filmmaker Bong Joon-ho, and features a stupidly stacked case including Evans, Tilda Swinton, Octavia Spencer, Jamie Bell and Ed Harris. It's set in the future after a second Ice Age wipes out most of the population, and the survivors live on a massive train called the Snowpiercer. Within the train, a class system emerges, and Evans' character Curtis leads an uprising against the folk at the front.
Chris Pine
Ah, Chris Pine. To be honest, he's not my favourite Chris – I don't hate him or anything, I just don't froth to the levels of say, your Pratt or your Hemsworth – but he seems like a top bloke. I could only find one Pine-starring movie on Stan, so if you love him you'll just have to watch it on repeat, I guess?
There's a whole lotta fantasy on this list so this is a perfect one if you feel like something a little deeper and darker.
Based on the legendary Black Dahlia slaying, this brand new Stan-exclusive series tells the story of a teen girl who was given up at birth, leaving her with a fuck ton of questions about her past which suddenly come to light as she meets a disgraced reporter played by our main man Chris Pine. The unlikely pair team up and find themselves on a path leading to an infamous Los Angeles gynaecologist who was involved in the Black Dahlia case.
I 1000% recommend this one for true crime fans and, of course, fans of Chris Pine's beautiful face.
Cop the trailer below:
Another post-apocalyptic flick, this is more of a romantic look at most of civilisation being wiped out than Snowpiercer. It stars Margot Robbie as Ann, a survivor of a nuclear apocalypse who is living out her days solo on her family's farmland. She's joined by a bloke named John (Chiwetel Ejiofor) and the two form a nice lil' friendship – but the arrival of Caleb (Pine), another old mate seeking shelter, throws everything into disarray.
So there you have it, folks. A bunch of things to feast your eyes on next time an attack of Chris-related thirst hits.