With the mass amounts of true crime docos, series and podcasts available to us, it seems like pretty much anyone can call themselves a true crime buff.
But you can't really take on that esteemed title unless you've delved into every aspect of true crime from murder to the War On Drugs to prison life, both here in Australia and overseas.
While I'm sure you're already a fountain of information about crime, we think your criminal know-how could be a lot stronger so we've compiled some of the most fascinating documentaries and docuseries for you to binge.
Only after you've made your way through this list of hard-hitting docos available on Stan can you officially call yourself a true crime buff. Welcome to the fold.
New true crime series Murder in the Bayou examines a string of horrific murders that took place in Louisiana between 2005 and 2009 and shook the local community to its core.
Over the course of four-and-a-half years, eight sex workers known as the Jeff Davis 8 were viciously murdered and their bodies dumped in drainage canals and on the side of desolate back roads.
The case has perplexed investigators for the last decade and remains unsolved to this day, with many debating whether it was the work of a random serial killer, their pimp or the corrupt local police.
The series is directed by Matthew Galkin, produced by Joshua Levine, and based on Ethan Brown's New York Times Best Selling book Murder in the Bayou: Who Killed the Women Known as the Jeff Davis 8?
But instead of just investigating the crimes that took place, Murder in the Bayou delves deeper into this tragic story by showing us the harsh realities these young female victims faced in their life and the violent sex and drug trade that they were part of.
Their investigation uncovers a slew of secrets, corruption and injustices occurring in the small towns that may have played a role in the murders.
The first episode just dropped on Stan, the same day as the U.S., with new eps dropping every Saturday so clear your weekend schedule 'coz you're about to become hooked on this gripping investigation.
Catch the trailer below:
If you wanna take on the coveted title of True Crime Buff™, it's important to be in the know about the prison system so we suggest schooling yourself with viral docuseries 60 Days In.
In the series, volunteers are incarcerated as undercover prisoners for 60 days to give viewers an insight into what goes down behind bars.
60 Days In has made international headlines for its heavy content and its disturbing look into the shocking and often scandalous dealings that occur in prison.
After watching this series, you'll be able to rattle off all kinds of wild prison facts the next time you're at a party and want to flex your prison know-how, from their recreational activities to how prisoners create makeshift drugs and weapons.
The first two seasons are now streaming on Stan so we recommend doing time with a spicy binge sesh ASAP.
So now that you have so much jailhouse know-how you could probz be hired as a prison warden, here's a docuseries that explores a different aspect of incarceration: wrongful imprisonment.
As the title suggests, Wrong Man takes a look at three different cases of inmates who have been locked up for decades for crimes they claim they did not commit.
Perhaps the most fascinating part of this documentary series, helmed by legendary, Emmy-winning filmmaker Joe Berlinger (Paradise Lost), is the fact that it had real-life implications on the cases it examined.
A few months back, one of the inmates (I don't want to spoil too much 'coz I know how you crime nerds lurve suspense) had their death row conviction overturned.
In his dissenting opinion, Supreme Court Justice Clarence Thomas acknowledged that the case might not have even been heard by the Supreme Court if it had not been for the media that re-investigated the case.
Wrong Man devoted two of its six episodes to the case so it's safe to say that the Justice was referring in part to this series.
And having recently been renewed for a second season, now's the perfect time to catch all six eps on Stan.
Over the past few years you will have seen a shocking amount of news items about students being raped on college campuses in America and The Hunting Ground provides a deeper look into the dark epidemic that's sweeping across America.
Ripped straight from the headlines, the documentary follows the true stories of Annie E. Clark and Andrea Pino, two former University of North Carolina at Chapel Hill students who filed complaints against the college after allegedly being raped while on campus.
The film looks into the attacks as well as the chilling institutional cover-ups that have made colleges an unsafe place, now more than ever.
These particular cases were revolutionary in the fight against campus rape as the use of Title IX in sexual assault cases became a model for universities across the country and changed the way these cases are prosecuted.
The Hunting Ground received rave reviews from critics and scored a slew of accolades, including an Oscar nomination.
Being a wannabe crime buff, I bet you've seen all kinds of true crime docos but I guarantee that you have never seen anything like How To Make Money Selling Drugs.
In this unconventional doco, filmmakers call upon a multitude of random folks to give us an insight into the drug trade.
You've got celebrities like 50 Cent, Susan Sarandon, Woody Harrelson and Eminem along with a whole bunch of drug traffickers and people from law enforcement, resulting in a cooked but captivating cocktail.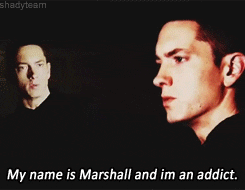 But everything is not as it seems and you'll be wise to stay focused on the tone of the doco as the mother of all twists sends the yarn into a very different direction around the midway mark (again, no spoilers!).
A film festival fave, How To Make Money Selling Drugs premiered at the 2012 Toronto International Film Festival and won the audience prize for best American independent film at the 2013 Champs-Élysées Film Festival.
While there are loads of captivating true crime stories across the world to delve into, there's also a bunch of wild tales to be told from right here in Australia, such as the life and crimes of gang leader Mark 'Chopper' Read.
Chopper: In His Own Words features previously unseen footage of Read including home videos filmed prior to his death in 2013.
The purpose of the doco is to give viewers an up-close-and-personal look at the notorious criminal and uncover the mystery surrounding his crime career.
Unlike some docos, In His Own Words is completely unscripted and unfiltered so you know you're getting a legit window into the world of one of Australia's most renowned criminals.
While The Hunting Ground takes a look at one of America's worst epidemics, Ice Wars is a gruesome look at one of Australia's.
The ABC docuseries follows the stories of major meth lab busts, the importation of drugs, forensic teams tracing precursors and toxicologists investigating human impact from passive meth production.
Filmmakers are given access to the inner-workings and investigations of police and other agencies as they fight the drug war that's been raging on Aussie shores for years.
Not gonna lie to you, there are some parts that are pretty tough to watch, including the scenes where we're shown the devastating impact the harmful drug has had on Aussies but as with all crime docos, it's essential viewing, no matter how gruesome, in order to understand what's happening right in our backyard.