In the months following Tristan Thompson's cheating scandal, people have had questions about the pair with many wondering why the feck Khloe Kardashian has decided to stay with him despite his unfaithful ways.
But with a new lil bubba, True to take care of, Koko has ignored the questions and gotten on with life as a mother… until now as a fan has seriously pushed her buttons.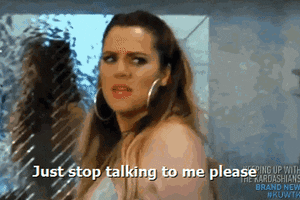 A fan probed the mother-of-one about her relationship via Twitter, calling her a "hypocrite" for staying with the NBA star.
I love, adore & root for @khloekardashian but I'm so disappointed she stayed with that wasteman Tristan. she preaches about women knowing their self worth and when to walk away but when it's time to walk the walk, she's a hypocrite 😔

— Queen Persia (@ChicBitchxo) June 25, 2018
Khloe was quick to clap back at this Queen Persia character, telling her that she has "no knowledge" of what's going down in the reality star's relationship.
Not exactly Queen Persia, you have no knowledge of what goes on in our household or the enormous rebuilding this takes to even coexist. I'm proud of my strength. I appreciate your opinion and I hope you hold that same opinion to everyone else who has stayed in situations.

— Khloé (@khloekardashian) June 25, 2018
The pair went on to exchange niceties as Khloe thanked the fan for offering her support.
I'm not trying to judge you, bc I do adore you girl. your a role model to millions of girls, I get that you're trying to figure shit out & tbh, your fans are protective of you. we just don't want some lame breaking your heart again. that's it.

— Queen Persia (@ChicBitchxo) June 25, 2018
I love you for that and girl trust me don't I understand!!! I appreciate you 💜💜💜 I do!! 😘😘

— Khloé (@khloekardashian) June 25, 2018
In case you've forgotten (I certainly haven't…), just two days before Kardashian was set to give birth to their daughter in Cleveland, footage emerged of Thompson getting extremely close to other women.
Us Weekly later confirmed that the 27-year-old cheated on Khloe with at least five different women during her pregnancy.
Despite this, the pair appear to be a permanent fixture and recently returned to their home in L.A. where they will raise bb True together.
More power to ya, sis.