The Tristan Thompson–Jordyn Woods cheating scandal is the shitstorm that had us chomping on popcorn for most of February / March. And while the drama has pretty much subsided IRL, it's only just heating up on Keeping Up With The Kardashians, since producers needed time to script and edit all the action into the show, of course.
In the two-part Season 16 finale, the first part of which airs next Monday, the bombshell drops that Khloe Kardashian's partner and babydaddy Tristan has been caught cheating with Kylie Jenner's live-in BFF Jordyn.
In the promo for the episode shared by the show's network E!, we see Khloe crying in bed with a voiceover of Kim Kardashian saying to Kris Jenner: "Tristan admitted it!"
We then see a rattled-looking Kylie exclaiming: "I'm just like.. what were you thinking?"
Then, the kicker: Khloé saying to Kylie: "I knew who he was. I never in a million years thought that's who she was."
The clip ends with Khloé in her to-camera interview wiping away tears, saying: "It just sucks it has to be so public".
I have a few thoughts here, the first being my slight annoyance at Khloé seemingly forgiving Tristan for cheating because that's "who he was" — this attitude is very in line with the tweets she posted after the story first broke, which drew backlash from many of her followers.
My second thought is, of course it is this public — that's just how your family rolls. Obviously I do feel for poor Khloé for being cheated on in the first place, but when you air all your family's laundry (clean or dirty) on TV, you can't really be shocked that something like this would hit the headlines.
Anyway, for a gossip-hungry person like me, it's still fascinating to watch it play out on TV having watched on from the other side so many months ago. If you wanna see the shit hit the fan for yourself, part one airs Monday June 24 at 9.30pm on E!.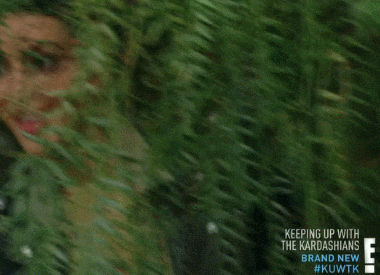 Image: E!