I've decided that this year, in 2021, we're no longer going to be fussy and snobby about what we watch on TV. No more feeling guilty about watching dumb shows that make your brain go a bit smoother – they're not guilty pleasures anymore, they're just PLEASURES. And that is why my favourite show of 2021 so far is the greatest and dumbest one of all: Holey Moley.
If you've been to any of the Holey Moley boozy putt putt places around the country, you'll have a fair idea of what it's about. Mini golf. But it's mini golf with the added bonus of people getting absolutely owned by large obstacle courses. It's putt putt meets Takeshi's Castle or Wipeout, and it absolutely rules.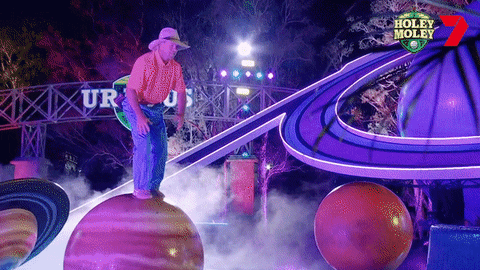 Each episode works in a bracket, with eight players going head to head to try and win the first hole. The challenge comes in with the physical side, where players have to try and get past obstacles without falling off – and a failure to get past adds a stroke to their par.
The four winners of hole progress to the second hole, and the two winners of that go on to try and win the third hole, and the coveted plaid jacket, golden putter, and a spot in the grand final.
In the grand final, the winners from each episode battle it out on the greens to win $100,000 and hold the title of Holey Moley Champion.
The beauty of shows like these is the prank – the punchline – always punches up, and everyone who is throwing themselves into the obstacles is doing it fully aware of what they're getting into. It holds the same kind of energy as the Jackass series, in that it keeps all the big hits internal to the group of the contestants, and doesn't attack others for a cheap laugh.
Look, I can dissect the shit out of this show, but honestly what we're all here for is watching people get absolutely belted by portaloo doors, fall off giant rotating sausages, slam onto bouncy planets, and generally just eat shit.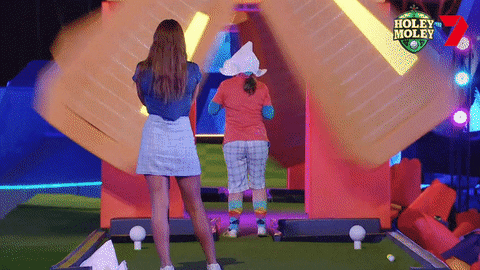 Yes.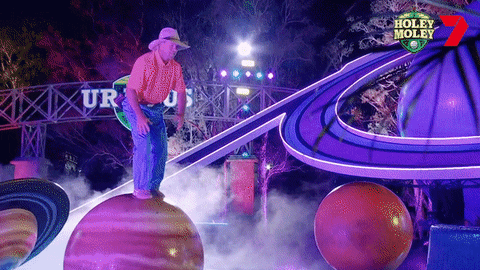 YES.
I love it, give me more. Hook it to my fucken veins this is all I want to spend my nights watching.
Holey Moley is based on the American game show of the same name, which is commentated by ESPN sportscaster Joe Tessitore and actor/comedian Rob Riggle.
Riggle has made the leap over to the Aussie version and is joined by former Olympian Matt Shirvington, who honestly have great chemistry and bounce off each other's stupid-ass jokes beautifully.
The combination of Australian and American humour works so well in this format – possibly because a lot of it is Riggle being dumbfounded by Australian humour and slang – but they both lean into the stupidity of it all, which is what you really have to do when you're commentating people playing literal mini golf.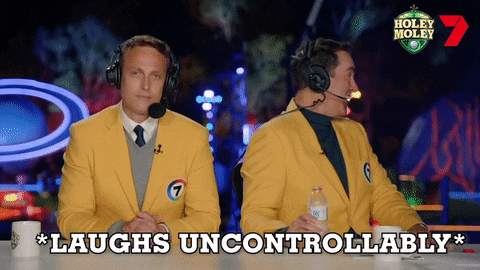 And I mean, it's a show that has successfully brought back both Agro and Joe Dolce's 'Shaddap You Face' to the collective consciousness of the country in three episodes and its first week of airing. Who else can say they've done that?
The comedy of the show is bang on as well. Countless reality shows try and wedge in product placement as seamlessly as possible, whereas Holey Moley just shamelessly promotes its sponsors, turning it into a piece of comedy similar to the product placement scene in Wayne's World.
The fact that the show leans in and hams it up makes us feel like we're in on the joke and brings a level of self-awareness to the whole thing that feels refreshing and like we're not being advertised to in a way that makes us feel stupid, or at least like we're not smart enough to quickly pick up on it.
Holey Moley is unashamed, ridiculous, and wildly self-aware, making it probably one of the best reality TV shows coming out of Australia right now. In its first week alone it's absolutely smashed the ratings, raking in over 2.2 million viewers across three nights.
That and they go hard on the butthole jokes whenever the Uranus hole comes up. Nothing is as good as butt joke.
Holey Moley is on Channel 7 at 7.30pm Monday to Wednesday, and 7pm Sunday evenings. You can also catch up on episodes over on 7plus.
Image: Holey Moley Australia / Channel 7