Heath Ledger is the only celebrity death I've never really gotten over. So it hurts my heart to write about the revelation from Ledger's sister, Kate, that's suddenly started circulating: that he was apparently absolutely keen to reprise his iconic role as Batman villain the Joker.
Ledger won a posthumous Oscar for his turn as Christian Bale's foil in Christopher Nolan's gritty flick The Dark Knight, but Nolan has never confirmed that he would have written another role for him in follow-up The Dark Knight Rises.
However, in an interview with News.com.au from last year (which has only just started to gain traction, for some reason), Kate Ledger explained:
He was so proud of what he had done in [The Dark Knight]. And I know he had plans for another Batman. He loved working with Chris Nolan and Christian Bale… He just had the best time ever doing that film. When he came home at Christmas, he couldn't wait to tell us all about it and he was doing the voice and laughing, showing me all the rushes. We had a great time.
Kate spoke to News.com.au around the release of documentary I Am Heath Ledger, which was criticised by some film critics for refusing to portray Heath's "dark side".
His sister, however, said that it simply didn't exist.
He was a really happy person and he had huge plans for his future. I spoke to him the night before (he died) and we were laughing and joking.
Heath Ledger died of an accidental prescription drug overdose on January 22, 2008, and the film industry has been poorer ever since. We miss you, mate.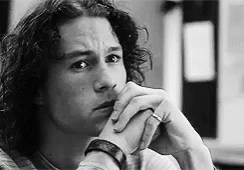 Source: UPROXX