In news that will please everyone who spent more money than they actually had in the post-Christmas sales (oh come on, surely that wasn't just me?), you can now score tickets to ultra-hyped play Harry Potter and the Cursed Child for just $40 in the Friday Forty weekly lottery.
[jwplayer LnCPEFXm]
FORTY FUCKEN BUCKS. It's madness, and it sounds made up, like something you'd see in the Mirror of Erised only to realise it was a cruel magical lie. But this isn't! It's actually happening, but obviously these tickets are very limited. In fact, there's only forty of these $40 tickets up for grabs in a digital lottery each Friday, and to be in with a chance you have to get on board with TodayTix, which is launching in Melbourne today (Jan 7).
The site (and app) blesses theatregoers with crazy cheap tickets to all different shows, and will be adding Sydney and Brisbane in the coming months. TodayTix already exists overseas in theatre hotspots like New York and London as well as other major US cities (for example, in Chicago they're slinging $69 tix to Hamilton right now).
Back to Cursed Child because that's what you came for — the very first Friday Forty is live right now on the Cursed Child's offical site HERE and TodayTix's site right HERE, and closes this Friday January 11 at 1pm.
Each Friday these $40 tix will be up for grabs for the following week's performances. Lucky winners will be notified between 1PM AEDT and 5PM AEDT each Friday and have an hour to actually complete their purchase.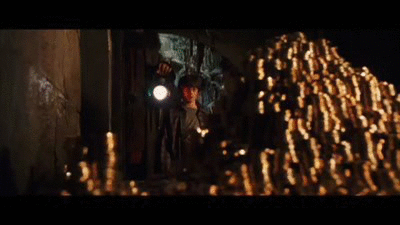 If you're lucky enough to score the tickets, they are $40 per part which for the two-part Cursed Child means you'll be forking out $80 total. Winners will be able to purchase a maximum of two tickets for both Part One and Part Two in one transaction. Tix can be collected from box office on the day of the performance.
Harry Potter and the Cursed Child kicks off at Melbourne's Princess Theatre on February 23, with preview performances next week.