In a world where celebs can share every last details of their lives with us on social media, it's super infuriating when they decide to get all ~private~ about their personal lives. Like yeah, we know it's their right and blah blah blah, but sometimes we just need the dirt, amirite?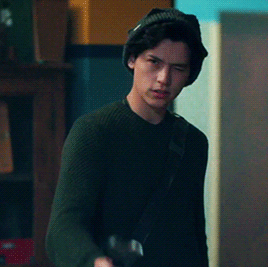 One of our favourite non-couples who haven't actually confirmed anything verbally about their relationship are Riverdale cuties Cole Sprouse and Lili Reinhart, who have taken Bughead from our small screens and into real life. And we're totally here for it, by the way.
While they haven't actually said the words "YES HELLO ITS US WE ARE DATING BYE", they've been sending us lots of non verbal cues. With their tongues. Which seem to be permanently attached to each other.
After a cutesy-yet-secret Hawaii vacay earlier in the year, the pair have hit up Paris for another trip, this time for Riverdale fan event RiverCon.
I mean, Paris. Only the most romantic city in the goddamn world.
Eagle-eyed photogs have snapped the duo looking at each other lovingly and yep, smewching all over the bloody street. Like, I know it's France and people are super sexed-up over there, but if this isn't an honest-to-god legit couple I don't know what is.
You can see a whole bunch of pics right HERE at HollywoodLife, and some sneaky fan pics are all over Twitter.
Behold:
Cole and Lilli.. ???????? pic.twitter.com/pZQ3oz0e6i

— Kirsty//R5???? (@lynchratx) April 3, 2018
HAAAAAAA !!
En direct du sud de la France j'ai guidé un pote pour qu'il trouve le cast de Riverdale à Paris. WELL DONE !!!
ÇA A MARCHÉ !! @lilireinhart – @colesprouse ???? #Riverdale pic.twitter.com/cG1dQWSIxk

— Arthur (@_THATSARTHUR) April 2, 2018
LILI REINHART AND COLE SPROUSE TOGETHER OH MY GOD I AM NOT OKAY GOD FINALLY HEARD MY PRAYERS pic.twitter.com/GbV7OOXbMf

— myra (@liliscoIe) April 3, 2018
???? Cole Sprouse & Lili Reinhart in Paris last night pic.twitter.com/ZWoeQITLrk

— Cole Sprouse Daily® (@colemsdaily) April 2, 2018
????| Cole Sprouse ontem em Paris (02/04). pic.twitter.com/1nKjvlv5kK

— Bughead Brasil (@BugheadBR) April 3, 2018
He puts his hand on her back to protect her ???????????????????????? #colesprouse #lilireinhart #sprousehart #RIVERCON #Riverdale pic.twitter.com/FYFCmfgpFI

— ???? Saz ???? (@juggybettybabe) April 2, 2018
Looks like BUGHEAD IS REAL. Cole and Lili = confirmed. I won't hear any arguments.
Image: Instagram / @lilireinhart