Brooklyn Nine Nine fans have been going through a tough time at the moment. First it was cancelled, then it wasn't and there's only so much our fragile nerves can take. But now that it's definitely coming back for a mother season, you'll no doubt be planning your viewing party for the return and you'll need to know the diets.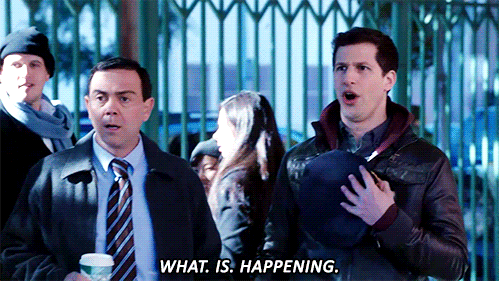 You Have To Wait Until Early Next Year
While the return date for season 6 haven't been released yet, it will be sometime early next year. That's probably fair seeing as they only just started filming it earlier this week. So you have all Christmas to rewatch (or get up to date if you've somehow been living on Mars and can therefore be forgiven for not having seen it yet).
It's Coming Back To SBS Viceland
Oh sure in the U.S. the show is jumping all over the place, mainly because the fools at Fox were the ones who cancelled it and started this whole mess, while the angels at NBC saved it to the benefit of our viewing pleasures. They even promised they weren't going to do that thing where they try to switch things up and inevitably destroy it. Nope, they promised it'll be the same gem of a show you've always loved.
#Brooklyn99 EP Dan Goor on taking the show from #Fox to #NBC: "The mandate from NBC all along was, 'we know this show, we love the is show … please keep making the same show'…i don't want to say it's the same show. i think it will be ever better this ever." #TCA18

— Yvonne Villarreal (@villarrealy) August 8, 2018
For us Aussies it'll still be on SBS Viceland as always, so you don't have to change a damn thing. It'll still be fast-tracked too. SBS Viceland have promised they'll get the show on their screens and out to you, the fans, as fast as humanly possible just as soon as the show enters their building.
https://media.giphy.com/media/l3nWqzkMR5diFKkkU/giphy.gif
There Might Be A #metoo Ep
Terry Crews made headlines not long ago when he opened up about his own #metoo experience at the hands of Hollywood Agent Adam Venit and thanked his Brooklyn Nine Nine cast for creating the supportive environment that allowed him to tell his story.
"One thing that influenced me was being here and feeling safe and having friends and family on this show that I felt secure enough that I could tell my truth and still go to work," Crews said.
Following these comments from Crews, show runner Dan Goor confirmed they were trying to create an episode around the issue of sexual assault at a Television Critic's Association event.
"The challenge is to stay true to the show and feel funny, but give a weight to the issue and explore it in a fair way," Goor said. "I can't promise, but we're really interested in trying to do a #MeToo story."
It's never too early to set up a Facebook event, right?