If you've seen the brand-new Marvel flick Black Panther, you'll know that Oscar winner Lupita Nyong'o kicks an insanely huge amount of arse in it. (If you haven't seen it yet, it's been out for a week already so bloody well go and see it IMMEDIATELY, okay?!)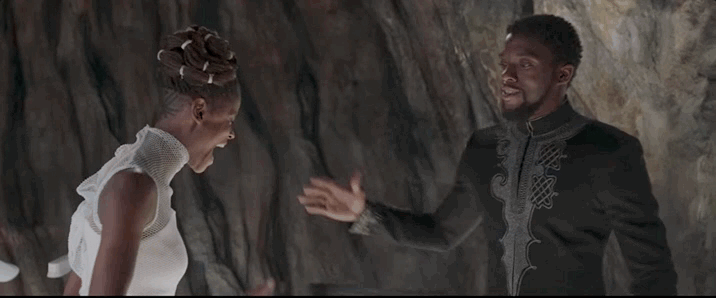 The women of the fictional African nation of Wakanda are fierce – like, King T'Challa's (Chadwick Boseman) guard is made up of a troupe of warrior women including Okoye (played by The Walking Dead badass Danai Gurira), his little sister Shuri (Letitia Wright) is a tech genius and his ex-love Nakia (Nyong'o) is a butt-kicking Wakandan spy known as a "war dog".
It's the most physical role that Nyong'o has taken on to date, and when PEDESTRIAN.TV sat down with the 34-year-old in South Korea to talk about the film, she shared that it's the kind of part she's been frothing on for ages.
Oh, yeah. I've wanted to do something like this for a long time. I love challenging my body and picking up combat skills, I love looking into the way a fighter thinks – it takes a lot of discipline and a lot of skill. It was a lot of fun.
As for the preparation, Nyong'o says the cast underwent a six-week training bootcamp.
We would have warm ups together with the stunt team and then we'd branch off into our various techniques. Nakia being an international spy, her fighting style is also quite eclectic, she's a "by any means necessary" kinda gal. So my training was jiu jitsu, judo, filipino martial arts, capoeira, that kinda stuff all mixed in there. Then I had to learn to use firearms and my ring blades – it was a lot.
Since this arse-kicking role was a first for Nyong'o, we had to ask whether she totally axed herself at any point during the training or shooting of Black Panther. And, my friends, axe herself she did.
I did hurt myself, actually on the very first day of shooting I badly sprained my knee. I was very secretive about it because I didn't want to have anyone panic. The very first stunt I did, I was like 'I'm going to have to see a doctor. And I had to take it easy. But after two weeks I was back at it.
What a trooper.
For more on the awesome women of Black Panther, check out our interview with Nyong'o, Boseman and director Ryan Coogler below.