Flu season has struck down several staffers at Pedestrian.TV and while discussing the very real possibility that the black plague has emerged in Sydney, this quote from fabulous noughties film A Series Of Unfortunate Events came to mind: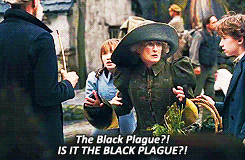 [jwplayer sNd5cmTH]
Which got me thinking, we really don't talk about Meryl Streep's performance in this flick enough and it's a crying shame 'coz, frankly, it's probably her best performance ever.
Streep is a renowned acting chameleon, able to seamlessly switch from evil boss in The Devil Wears Prada to singing free spirit in Mamma Mia! to calm but cruel grandmother in Big Little Lies.
But the area in which she really flexed her acting muscles was as the OCD-stricken Aunt Josephine in your childhood fave.
Any old chump can boss Anne Hathaway around or scream across the dinner table at Nicole Kidman but to play a sweet and gentle but psychotic and excitable character has to be a difficult feat and Streep bloody nailed it.
In particular the scene where the character faces her fear of the outside world to go shopping with her nieces and nephew stands by me to this day.
The way she sashayed through the markets with terror in her eyes was so ridiculously erratic and beautiful and I legit don't know another actress who could've done it justice.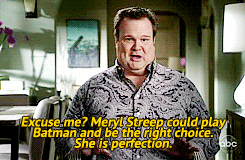 Josephine's fears ultimately get the better of her and she trades off the kiddies to the evil Count Olaf (Jim Carrey) in exchange for her life but still ends up being cast away at sea to be eaten by leeches.
Her sheer desperation and crippling fear is palpable through the screen and although she was willing to have her young relos abducted by a psychopath, Streep has a way of making you feel sorry for the character.
Observe…
So go ahead and focus on her award-winning roles, I'll just be over here pondering the magnificence of Meryl Streep squealing at the sight of realtors.