Because we love an feel-good yarn, we've partnered with TAFE NSW to highlight all the goals that budding entrepreneurs are scoring across Aus. Feeling inspired? You can really be whatever you want to be at TAFE NSW.
---
There are buskers. Then there are buskers who command attention. If you've ever walked through Sydney's Pitt Street Mall, you'll know the frustration of side-stepping the crowds gawking at dancers, musicians or those optical illusion murals.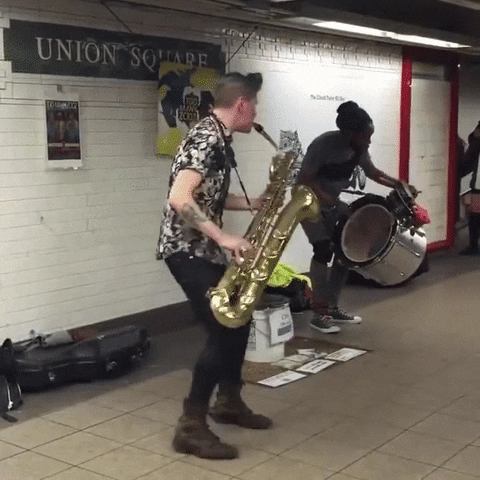 Let alone a busker really feeling themselves.
But for muso Oded Prior, even that pedestrian-squashing stage was still too small, so he transformed bucket-playing into a worldwide touring band.
"When I moved here [from Israel], I knew I wanted to start my own group," he said. "I started with just a few buckets, sitting in the streets with some pots and pans around me and started jamming until I gathered some people and started taking it to the next level."
For Oded, the next level was Junkyard Beats, an eight-person performance group which transforms waste and household items into musical instruments, from drum kits made from bins to a xylophone made with plastic bottles filled with compressed air. Since forming in 2015, they've toured across Australia and internationally, too, playing at private functions as well as festivals like Lost Paradise.
"A massive passion of mine is reusing [and] recycling in the most creative ways, and for me, that comes out through music outlets," he said. "I've always been collecting things and just finding sounds."
While Oded is first-most a drummer, he's roped in actors, dancers, acrobats and more to create a tight live show: you can see them play in the below video. But even with his previous experience in percussion groups in Israel, turing a busking gig into a full-scale company is a massive task. So how did he do it?
There's two things Oded credits to his success: a readiness to work with whatever's at hand, and the Diploma in Music Business he earned at TAFE NSW. With the talent already there, he just needed the industry and managerial knowledge to make his dream happen. Then it did. See for yourself:
Image credit: Junkyard Beats