Try not to panic, but here at PEDESTRIAN.TV we have just learned some disturbing news.
Experts are predicting that we're on the brink of a global wine shortage, with availability set to decline next year due to historically low harvests in Spain, France and Italy.
To be quite honest I'm not sure I've recovered yet from the national garlic bread crisis of January 2017, so I'm not taking this latest horror well at all.
Extreme weather is copping the blame for the predicted shortage, with everything from hail to drought to frost affecting the big European wine regions, which provide the world with over half of its wine.
"It has not been uncommon for one of these three producers [Italy, Spain and France] to have an off year, but rarely have we seen such poor harvests for all three simultaneously," Stephen Rannekleiv, global beverages strategist (is this a real job? Because I want it) told CNNMoney.
Italy is down 23 per cent, France is down 19 per cent and Spain recorded a 15 per cent drop in production.
According to People, worldwide wine production will decline by 8.2 per cent which may have the knock-on effect of a price hike. For someone like me whose drop of choice is a rather nice $8 Pinot Grigio from Italy, this is a truly game-changing development.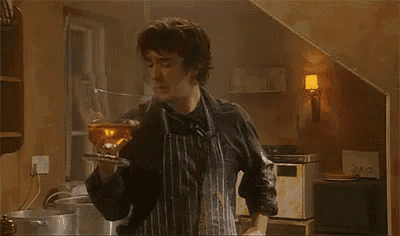 The Californian wildfires which occured in the wine region have also had a devastating effect on the area's vineyards, and even New Zealand is reporting a small decline in production this year.
So you didn't have to, I did some in-depth research and consulted a report from the Organisation of Wine and Vine (again, is this an actual place of employment? Because I VOLUNTEER AS TRIBUTE) and discovered some happy news for us Aussies.
We reported a six per cent increase in production of our wines, so if a Barossa Shiraz floats your boat as much as it does mine, you're in luck. It isn't a mammoth rise in production, but hopefully it's enough to get us through the vino apocalypse happening elsewhere.
Praise the weather gods for being kind to us down here.
Source: People
Image: Real Housewives