As millennials, our two best talents are simple: drinking and binge watching TV. Ok maybe there's some other talents in there like standing in the face of a fucked world thanks to generations before us and all that kinda hardy stuff, but TV and drinking is our main skill set.
With a bunch of shows either starting a new season soon or just about to finish, what better time to mash the two worlds together and get some serious pairing notes from winemakers aka. the folks that know wine the best?
So here ya go, try pairing some of these wines with the next episode and brag to your mates with these cheat sheets that definitely will make you sound like a booze expert.
American Horror Story: Cult
The next season of AHS is coming up and tbh it's looking like a real corker. You're probably going to need a wine or three to get through it without shitting your pants with fear and dread. It's a good show, promise.
Steve Meyer, George Wyndham Chief Winemaker, believes that a "an enigmatic, extraordinary red wine should be sipped throughout Season 7, one that holds its own against the thrilling story that will unfold on our screens."
Made of deep, dark grapes, George Wyndham Bin 555 Shiraz is rich and complex – the perfect accompaniment to what I'm sure will be an audacious season of American Horror Story.
So there you go. A spicy, peppery red with complex flavours will match the spooky and twist-filled plot of the upcoming AHS season. Stock up on those, and maybe some carpet cleaner in case it gets a bit jumpy.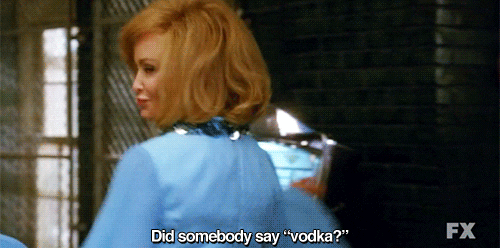 Broad City
The fronds to the ond, the best beyotches in Broad City are bubbly, energetic, and super fun. Two guesses as to what Jacob's Creek's sparkling and white winemaker Trina Smith paired with Ilana and Abbi. Yep, you guessed it – a fizzy Prosecco.
Abbi and Ilana are eccentric yet familiar, comical yet endearing – a harmonious balance of contrasts. I say, the best way to join them on their escapades in New York City is with some Prosecco, a splash of bitters and a citrus twist. Gather your girlfriends (or boyfriends), host your own season premiere screening, and pop a bottle of Jacob's Creek Prosecco Spritz, complete with ice and a slice of ruby red grapefruit.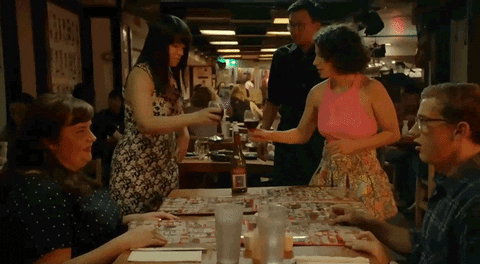 Twin Peaks
Now Twin Peaks is usually tied with damn good coffee and a cherry pie that'll kill ya, but sometimes you need something with a bit more snap to really wrap your brain around David Lynch's really fucking wild directing techniques and cryptic storytelling.
Stoneleigh's chief winemaker, Jamie Marfell, reckons a bitey, complex, and electric Sauvignon Blanc is the perfect wine to sip while deciphering the twisted and dark world of Twin Peaks.
The forests in the town of Twin Peaks keep me on the edge of my seat. They are full of mystery; eerie and captivating all at once. The extraordinary flavour and complexity obtained from wild ferment wines is an ideal pairing to this show.

Nothing helps keep your cool like a crisp white wine, and with the suspenseful finale approaching, I'd recommend a glass of Stoneleigh Wild Valley Sauvignon Blanc, wildly fermented in the valleys of New Zealand. Twin Peaks looks normal but is a bit weird, just like wild fermented wine. But weird in a good way!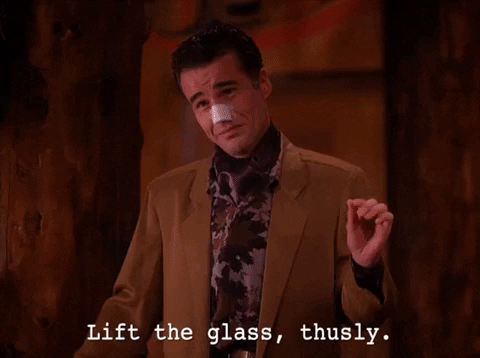 Dick Tremayne is underrated as hell and you know it.
Game of Thrones
Finally, the big one. Game of Thrones. We're about to tuck into the season finale for the penultimate instalment of the Good Show, and though you probably could just sit there and drink mead the entire time, St Hugo's chief winemaker Dan Swincer reckons you should be sipping on a bold, full-bodied red instead.
As a show synonymous with red wine lovers, it wouldn't be right to mark the seasons greatest milestone – the finale – with anything else but a powerful and elegant red such as the St Hugo Cabernet Sauvignon.
A wine as thick as the blood of thine enemies, and the power of a sword of Valerian steel. Best swilled from a goblet under a (faux) fur blanket fromm all the hunting you've done (read: IKEA trips you've made in the last couple of weeks.)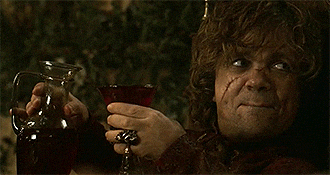 Grab yourself a glass, pop on your comfiest clothes, and give yourself a healthy RSL-grade pour, cos you've got some serious tele watching and wine drinking to do, mate.