PEDESTRIAN.TV has teamed up with Fancy Plants to give you a healthier alternative.
In the last year and a half (ish), I've gone through all the snacks. I've gone through healthy self-care stages, I've gone through junk food stages, I even went through the sourdough stage (well, my housemate did and I watched, so it counts). Basically what I'm saying is that I'm Queen of best snacks now.
I'm here to share my newfound wisdom on which little treats to indulge in, no matter what your snack mood may be.
If You're Ready For Something New: Green Apple & Almond Butter
I'm fully aware of how weird this one sounds, and I was so sceptical before I tried it. I can't explain why, but the sweetness of a thin slice of green apple spread with the nutty goodness of natural almond butter is pure perfection. Try it now, thank me later.
If You Want A Healthier Snack That Tastes Like It's Not: Fancy Plants
Casual snacking is hard when you don't want to overload on sugar and/or you're a plant-based eater. Enter Fancy Plants, your new champions of all-natural, plant-based snacks that are better for you and still actually taste delish. Think chocolate pudding, chia puddings and vanilla rice puddings but with added nutritional benefits. Plus there's literally no prep time, just grab a spoon. You can find them in the chilled section of Woolies or the chilled health section of Coles.
If You're Feeling Fancy: Cheese Plates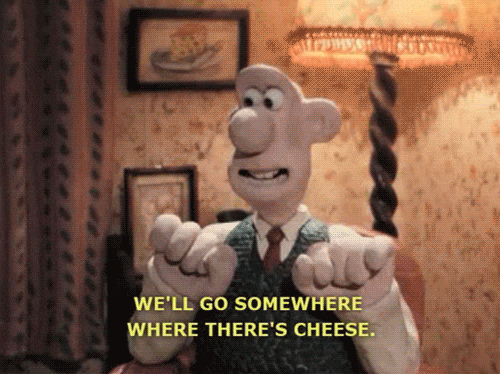 Sometimes, even when we've been in our jimmy jams all day and have been binge-watching a new show for hours, we need to feel a little fancy. A cheese plate and a glass of wine will get you there every time, you cannot convince me otherwise. You don't even need a big one, just a couple of cheeses, a dip, maybe some olives and a good loaf of bread.
If You're Feeling Indulgent: Air Fried Chocolate
If you don't have an air fryer yet, get one immediately, it'll change your life. If you do have one, wrap a small chocolate up in puff pastry and lightly brush it with milk. Then shove it in the air fryer for around nine minutes, and voilà — a warm and tasty treat with a crispy pastry shell and a gooey chocolate centre.
If You Need A Savoury Hit: Popcorn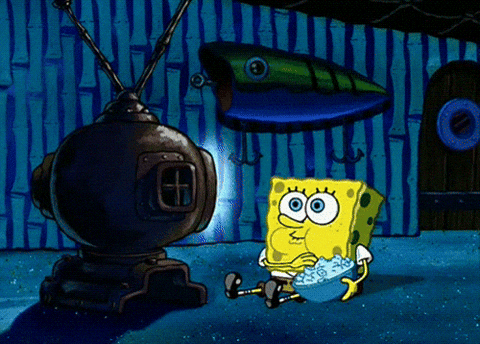 I'm sorry, but popcorn is still one of the best treats to exists. It's super easy to just shove a bag into the microwave, for one, but that salty goodness is satisfying without all the sweetness that makes you feel sick. Plus it makes an at-home movie night feel like a REAL movie night, you know?
Did I just create the greatest snack guide ever? I think I did, you're welcome for this service.
Image: Spongebob Squarepants