Despite literally every bakery in every small town across Australia claiming to have the "best in the country", the actual official Best Pie In Oz™ has been crowned – to the exact same bakery that won it last year.
The annual pie & pastie competition held by The Baking Association of Australia (and apparently NOT my Dad, Wayne) has happened again and the kings of the crust – Kyneton's Country Cob Bakery – returned to defend its title of Best Pie 2018, and bloody took it home again.
After winning last year's grand comp with a Satay Seafood pie (excuse me, what), the bakery from regional Victoria served up a Caramelised Pork & Pepper pie this year in the Gourmet Pie class, and then taking out the big gong with the same dog's eye. They also picked up the chocolates for Best Seafood Pie with a Curry Scallop pie.
They also took out gold for their Curry Beef, plain Mince Beef, Mushroom & Leek, Caramelised Fish & Mashed Potato, Tom Yum, Chilli Con Carne, and Cheese, Kransky & Mash pies. Goodness me.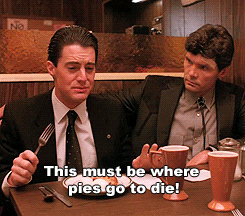 Head pie man from Country Cob Bakery is Chan Khun, a migrant from Cambodia who prides himself on his pies, and his road to last year's big win was eight years in the making. Last year, he told SBS Food that every night when he goes to sleep he literally dreams of making pies for the annual competition. BLESS.
He owns the bakery in the gorgeous Macedon Ranges with his brother, Ryan Khun, and this year's champion recipe harks back to their life in Cambodia before migrating to Australia.
The big porky pie won out against offerings from around 350 bakeries serving up to around 1700 different pies, all tasted and critiqued by a panel of 12 judges. Not too sure how you get that job but also can I have that job, please?
Alongside the title of Best Pie In Aus for two years straight, the Country Cob Bakery also takes home a heap of pie and baking supplies, a pallet of flour, and a pallet of margarine. Hell yeah, now THAT'S a win.
I mean, if you're asking me Hayden's Pies in Ulladulla make the best pie in the country but GO OFF, I guess.
Country Cob, give me this pie and let me put my tastebuds to the test immediately.
Image: Facebook / Country Cob Bakery