If you're like me and you've has Lil Nas X's 'Old Town Road' stuck in your head for the most part of the last month, then make way for some real big yee-haw energy with the rapper's latest collab with none other than the ultimate modern cowboy brand, Wrangler.
[jwplayer 9asDoP8m]
The capsule collab popped up on the Wrangler US site recently, proving that the brand is able to shift between 'clothes your country farm relatives wear to feed the animals' to 'inner-city festival punter' easily – I mean if RM Williams can be a beacon of trend-setting boots, then sure why not Wrangler jeans.
Boasting a pretty hefty but limited edition range of tees, shorts, and denim shirts, the collection also features a rework of Wrangler's classic cowboy rodeo jeans, with a high rise, slim fit cut, an ankle wide enough to fit over your boots, and a big ol' logo printed on the ass so you can actually have Wrangler on your booty.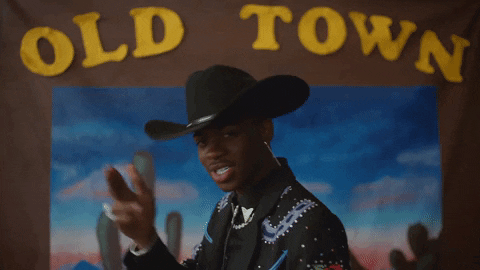 Most of the collection is unisex as well, which fucken rules, and Wrangler suggests that if you typically wear women's cut clothes, go up three to four sizes in the jeans for a good fit. I guess the only thing that is inherently ~womens~ is the booty shorts but hey I'm not going to stop you if you wanna get your cheeks in those cut-offs, honey.
Peep the full collection below and on the Wrangler website, and be thankful that Lil Nas X didn't opt for a collection with Gucci, even though I would probably kill a man for a Gucci cowboy hat.