In each generation of teen flicks, a heartthrob is born. A fictional boi who we fall crazy, deeply, unconditionally in love with, all the while knowing that he ain't real, but envisioning what our life as his other half would be like anyway. The nineties had Heath Ledger's Patrick Verona (10 Things I Hate About You), the noughties had Robert Pattinson's Edward Cullen (Twilight) and the current era (the teenies?) has Noah Centineo's Peter Kavinsky (To All The Boys I've Loved Before).
But according to the latter, one Noah Centineo, he hasn't quite reached Edward Cullen status yet but that's his goal for the TATBILB sequel and I defo reckon that's achievable.
I mean…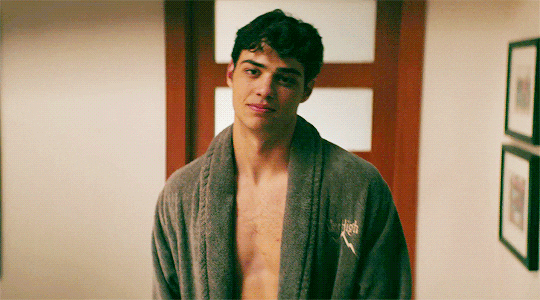 He recently dished on what we can expect from the highly anticipated followup during an interview with EW.
"I want people to get behind John [Ambrose], I want people to get behind Josh, I want people to get behind all the characters," he explained. "I would like to see fans bicker about it and have it be like the whole Edward Cullen-Jacob thing [from Twilight]. I love that." 
He adds that he also wants his character to have more ~depth~ in the sequel.
"I think Peter could be more vulnerable and jealous," he said. "He's not a super evolved person, so there's always more to explore and develop."
In the same interview, queen Lana Condor also dished on her ideas for her character in the follow-up Netflix film.
"It's in her nature to not be confrontational, so when people are mean to her or things happen to her that aren't necessarily great, I think sometimes she's just like 'Okay, well I guess that's life,'" Lana told EW. "What would be exciting for me is for her to stand up for herself a little bit more."
The sequel was recently confirmed via the following viral Twitter post:
It's official: @lanacondor & @noahcent will star in a "To All The Boys I've Loved Before" sequel! #ToAllTheBoysSequel pic.twitter.com/DIHN4xVAqs

— Netflix US (@netflix) December 19, 2018