I know it may feel like 10 years since June, but remember how we announced that Virgin Australia would be giving away free trips in the sky for the fully vaxxed and the fully vaxxed only? Well, the competition has finally opened, and you've gotta be in it to win it.
To jog your memory, the competition is called VA-X & Win, which is a fkn brilliant title if you ask me. It's the lovechild of Virgin Australia and Velocity Frequent Flyer, and will be responsible for a whole heap of free business class flights and frequent flyer points.
As of today, the competition is officially open for entry, and it will officially close on December 31 this year. So you've got a couple of months to get vaxxed and get your name in the draw. Winners will be announced on January 13, 2022, which means you could be on a free flight right out of this hellscape in no time.
"For simply rolling up your sleeve and getting a COVID-19 vaccination, you could walk away with a share in tens of thousands of dollars of Virgin Australia and Velocity Frequent Flyer prizes, or be the lucky one to become a Velocity Points millionaire," a spokesperson for Virgin said in a press release.
What in the virgin is a Velocity Points millionaire? Well, it's just that, one million fkn frequent flyer points. One lucky soul will become the Velocity Points millionaire, which will allow you to take an (almost, taxes apply) free trip pretty much anywhere when international borders open, or "fly around Australia seven times between each capital city."
For instance, a business class flight from Sydney to London (via Hong Kong) is only 127,500 points. Melbourne to Abu Dhabi? 104,000 points. So yeah, you'll have plenty of points to spend if you're the winner, and plenty of time to spend them too, so fear not.
It's a very Charlie & The Chocolate Factory premise, but you better believe I'm getting this golden ticket to anywhere my heart desires.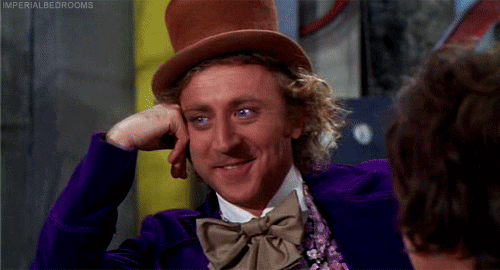 "We know how important it is to reach the vaccination thresholds as soon as possible, especially for those people living in New South Wales and Victoria, and we're proud to play our part in adding to the benefits of getting vaccinated," said Virgin Australia Group CEO Jayne Hrdlicka.
"We all have a role to play in ensuring our country is safe and we can return to our basic freedoms and all the jobs and prosperity that come with that."
Virgin also claims that even more prizes will become available down the track, but as for now, they are keeping it at business class flights, lounge memberships and frequent flyer points. Oh, and some special Virgin Australia pyjamas. Dunno about you but that's the thing that's inspiring me to get the double jab the most. I'm a sucker for some soft PJs.
You can enter the competition right here as long as you're 18+ and have received both COVID-19 jabs. All you've gotta do to enter is put in your name, email address and Velocity Frequent Flyer membership number (after all, you can't get gifted one million points without being a member).
See you in the skies.
Image: Getty Images / M. Swiet Productions, Roberto Machado Noa