Fear not, my beautiful breasted friends, because baps are totally ~en vogue~ again. Believe it, the Tit Police have ruled it so and The New York Post republished it.
The Sun insisted that only small-breasted people could get away with wearing no bra, but I guess they haven't run into me on the weekend.
"The perky little bosoms of supermodels such as Kendall Jenner and Bella Hadid have reigned supreme, as they have been smugly parading around braless in a way that only the small-breasted can."
They also decided that all millennials have no boobs which, I can tell you right here and now, is not facutal.
"Her fantastically brazen boobs, encased in a green velvet gown, immediately outshone the flat-chested, flesh-flashing millennials. She oozed that old Hollywood glamor that has been missing from red carpets for quite some time."
I know what you're thinking. "Thank GOD my mammaries are fashionable again, I was starting to worry they'd fallen off." Me too, love. Me too.
We're not alone, either. A whole bunch of people on Twitter have expressed their surprise when they also found out that baps are back "in a big way."
oh, good, I can take mine out of storage. pic.twitter.com/2UPGj4OUO9

— Sarah 🥷😐 (@travelswithberg) August 1, 2017
I'm so relieved. I was going to get rid of mine but after seeing this, I've reconsidered. Really dodged a bullet there!

— Sarah Star Litt (@sarahstarlitt) August 1, 2017
"As i watched the horizon with the thelescope, i saw a great wave coming toward us. I had to alert my fellow men"https://t.co/geAksm9RGI

— 🎄🌠Dove🌠🎄🏴🏳🚩🕊️🛡✝️ (@AnpacDove) August 1, 2017
https://twitter.com/its_emma/status/892515709158338560
No longer shall those of us with norks that know no bounds feel like we are being forgotten in the fashion world, for as long as popular people who also have breasts exist in the spotlight, then so shall we.
As someone with a solid amount of bappage on her chest, I was not aware that my boobs had strayed far enough to necessitate a 'comeback'. They have kinda been stuck right on my front for the last decade or so, so I was shooketh by the news that they'd gloriously returned to me.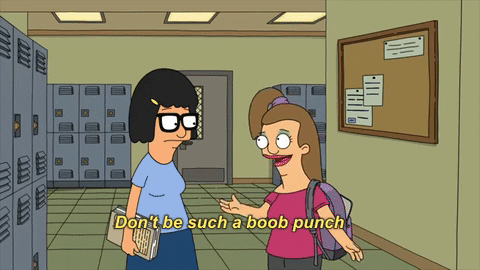 Are breasts even able to be a fashion trend? They're more practical than anything, really. Some can feed babies, some can crush cans with pure brute force, some can be a really nice resting place for your plate of food when you're slothing on the couch, watching your seventh hour of Game Of Thrones, some are looked at lovingly in the mirror because they're what makes you feel like you.
Sorry to be the bearer of reality, friends, but your boobs have always been here, in all shapes and sizes, makes and models. Maybe the real news is that we're learning to love them again.