On the eve of Yom Kippur, the holiest day on the Jewish calendar, a home in Sydney's east was viciously vandalised with signs of anti-Semetic and homophobic messages, as well as vile Nazi imagery.
Owners of a home in Kensington woke on Monday to find themselves the victim of the hateful graffiti attack, with their brick home plastered with spray paint.
Some of the defacing imagery included a Nazi swastika (not pictured), and the Chinese character for the word "day" or "sky".
Additionally, below the character was a phrase written in German, which translates to: "after the rain comes the sun".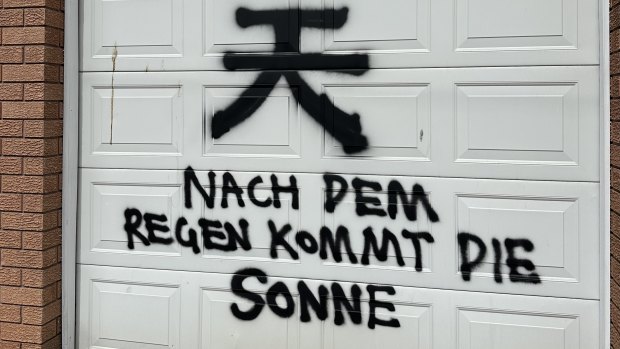 As well as this, there was also another wall that was tagged with the Star of David and the word "gay".
The Nazi symbol of the swastika has been outlawed in NSW, with the unreasonable display of it in public potentially earning the offender as much as a year behind bars, and/or an $11K fine.
Co-CEO of the Executive Council of Australian Jewry, Alex Ryvchin, has said, "the intent is to instil fear in our community, but they will fail."
Ryvchin also stated that the vile attack is a prime example of the "increasing brazenness of neo-Nazis."
The rise of neo-Nazi prevalence in Australia is worrying, with a group just this year clashing publicly with police in Victoria. What's most shameful for our society is that it wasn't even the first time this year that happened.
These instances, combined with the hate-fuelled comments that members of the LGBTQIA+ and Jewish communities cop online all the time from Nazi-sympathisers, show that the government stepping in is a necessary move. But more needs to be done.
Yom Kippur, which was Monday the 25th of September this year, is extremely significant to Judaism, as it is the day which marks the last of the Ten Days Of Repentance, where all who observe take part in fasting, as well as prayer and confession of sins.
The attack did not get Ryvchin down, however, as he assured that "tens of thousands of Australians will mark Yom Kippur as we have done for thousands of years."
Police have been notified of the vandalism and urge anyone with information to come forward.