There's a chance that Tropical Cyclone Oma could make landfall as a fully-formed tropical cyclone, according to predictions from the Bureau of Meteorology.
[jwplayer gvkTjsCy]
Current predictions for its path show it heading southwest from its position west of New Caledonia, towards the Queensland coast.

Source: Bureau of Meteorology.
BoM forecaster Sam Campbell told the ABC that there is a possibility it will cross over the coast "over the weekend", in an area anywhere from Central Queensland to the QLD-NSW border.
"Anywhere south of about St Lawrence, so that's that area around Rockhampton, so anywhere south of there right down to Brisbane really is potentially in play for a cyclone crossing if that was to occur — but I've got to emphasise it will come near the coast and not necessarily cross the coast but it is possible it could cross the coast," Campbell said.
As a result of the cyclone, abnormally high tides are expected along the southern Queensland coast, in addition to strong winds and increased swell.
Cyclones are — notoriously — very fickle to predict, so be sure to keep an eye on the current severe weather warnings for your area and to regularly check the cyclone's predicted path if you happen to live in Queensland anywhere south of Rocky.
If, to present a very specific example from my own life, your dad lives right in the middle of the coast predicted to be hit by the cyclone, be sure to check in and make sure they are aware of the conditions, even if the response you get is this: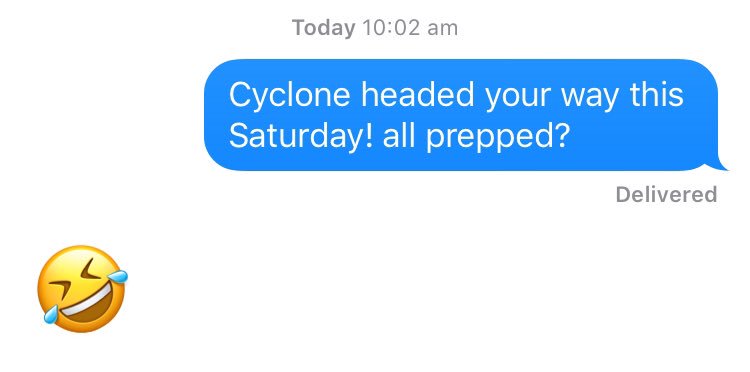 (That is literally all that he said.)