If you're not already aware, R. Kelly is cancelled. Yep. The guy that wrote 'Ignition (Remix)' that everyone blasts at every party and significant event, has been disgraced for some time now.
As the #MeToo and Time's Up movements widen their focus to the music industry, the villain in plain sight is being muted, and now heavy hitter Spotify has made the move to remove him. Not from the site entirely but from their playlists and recommendations (like your Daily Mixes and Discover Weekly) – you can listen to him, but you gotta search for it.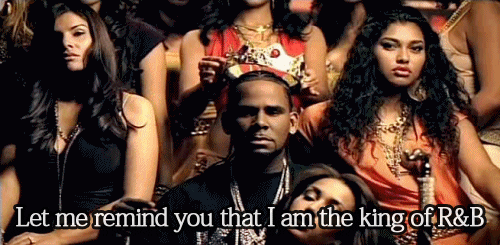 The big muffling of Robert Sylvester Kelly comes as more people call to 'Mute R. Kelly' considering his past of offences is being hotly discussed, behaviour that seems to have been a badly-kept secret for years.
Allegations of sexual interactions with minors – including urinating on women – have been a known secret since God know's when, and Spin have kept a timeline of R. Kelly's allegations, beginning with his marriage to a 15-year-old Aaliyah in 1994.
Spotify's decision to remove promotion to its membership pool of over 70 million people is also being extended to XXXTentacion, who is also under allegations of battery, false imprisonment, and witness tampering.
Big kudos to Spotify for putting their foot down, now go ahead and delete R.Kelly and XXXTentacion from all your playlists. Into the bin you go, fellas.