Gemini season has arrived, mates, and no creature, living or dead, has exhibited more Gemini energy than two-faced queen Hannah Montana.
[jwplayer sNd5cmTH]
Fittingly, IRL Hannah Montana Miley Cyrus just shared a new banger that includes a spicy lyric about Nicki Minaj who she famously feuded with back in 2015, giving way to this #iconic line: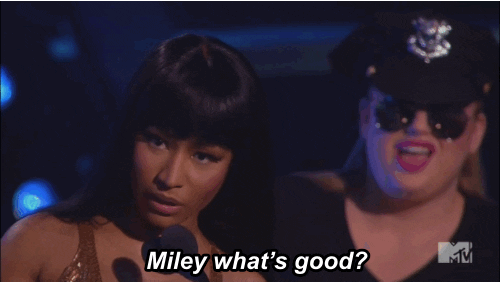 During her performance at Radio 1's Big Weekend in Middlesbrough, England, Miley debuted the following three songs: 'Mother's Daughter,' 'Cattitude,' and 'Dream.'
The song to include the shady lyric is obvs 'Cattitude' where Cyrus sings, "I love you Nicki, but I listen to Cardi."
https://twitter.com/cevansdodger/status/1132430716749451269
I mean, sure, the girl says she loves Nicki but read between the lines, folks: By referencing Cardi, her arch-nemesis who once launched a shoe at her at a swanky fashion event, she is inherently taking Cardi's side in the almighty beef and also saying that she prefers the 'Bodak Yellow' singer's tunes to her rival's music.
This was definitely a diss, IMO.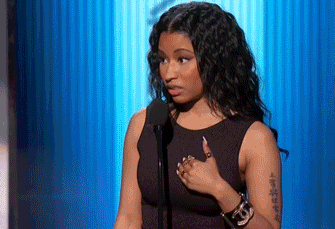 Lemme refresh your memory as to how the Nicki vs Miley squabble got started: In 2015, Nicki lambasted the MTV VMAs after being snubbed for a Video of the Year nomination.
"If your video celebrates women with very slim bodies, you will be nominated for vid of the year," she wrote on Twitter. "I'm not always confident. Just tired. Black women influence pop culture so much, but are rarely rewarded for it."
The 'We Can't Stop' singer later hit back at Nicki's stance during an interview with the New York Times.
"If you do things with an open heart and you come at things with love, you would be heard and I would respect your statement," she said.
"But I don't respect your statement because of the anger that came with it. And it's not anger like, 'Guys, I'm frustrated about some things that are a bigger issue.' You made it about you. Not to sound like a bitch, but that's like, 'Eh, I didn't get my VMA.'"
That's what Nicki meant when she came for Miley while accepting her VMA award for Best Hip-Hop Video:
"Back to this bitch that had a lot to say about me the other day in the press. Miley, what's good?"
Sure, Miley's ultimate clap back was hella late but as they say, revenge is a dish best served cold.