Mark Hoppus really hopes that his former Blink 182 bandmate Tom Delonge carries out his hard work on UFOs and gets himself into space because it would be a "total bummer" if all of Tom's research and work doesn't let him go see for himself.
Chatting with PEDESTRIAN.TV about the new project Simple Creatures with All Time Low's Alex Gaskarth (who are dropping their debut EP on March 29), the conversation eventually turned to his former bandmate and newfound UFO-truther, Tom Delonge.
Despite not having spoken to Tom for a good couple of years, Mark tells us that there's no "bad blood" between the two and that he truly hopes that Tom's extensive research and devotion to proving that aliens do exist.
I think that Tom's very happy doing his thing, and we are very happy doing our thing, and there's no hard feelings and there's no animosity or bad blood there, it's just like I said; he's doing his stuff, we're doing ours.

I have not spoken to Tom since before 'California' came out. So not for a couple of years. But like I said before there's no bad blood, it's just we haven't spoken.

I mean he's dedicated so much of his life to [UFOs] and so much time and energy researching things and listening to people speak, and talking about it himself, that it would seem like a total bummer if he didn't get a chance to fly into outer space and see for himself.
Alex, however, is convinced that aliens exist, and tells us that he saw something with his own eyes that proved it to him.
I have seen David Duchovny blink sideways on a red carpet once so I can fully confirm that aliens are real. He blinked and his eyes moved sideways, and it was a whole thing.

That to me proves it, so. I don't know why we're still even debating it. In my mind, it's confirmed.
I mean, sure. Why ARE we still questioning it? We need to shift straight to hard research, folks. It's confirmed.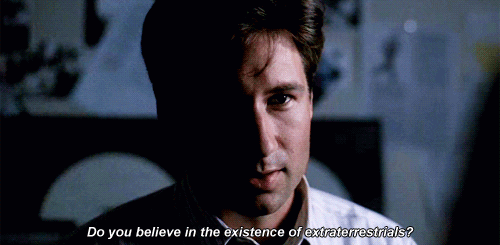 Both Blink 182 and All Time Low are celebrating big musical milestones in 2019; with All Time Low's Nothing Personal turning 10 and Blink's Enema Of The State hitting 20 years (I know), so what are the two bands doing to celebrate?
Alex says that although he and the All Time Low boys play a lot of tracks from that huge album on the reg because it means a lot to them and their fans, they're going to be keying up a couple of shows to pay homage to the record that made them feel like a legitimate band for the first time.
And as for Blink 182 – though there have been conspiracies (and subsequent reports to quash those rumours) that the Mark, Tom and Travis show might be kicking off again to celebrate Enema Of The State, Mark says that "There's been no reach out or no talk of getting the original lineup back together."
But to back that one up, he assures me that Blink 182 (probably in its current form) has talked about a show to play the band's influential third album cover to cover at some point.
We have talked about doing Enema Of The State in its entirety as a celebration of the 20th anniversary of that record coming out.
Uhh two tickets to that show, please and thank you.
In the meantime, get around the latest offering from Simple Creatures, 'Adrenaline' below.
Image: Getty Images / Barry Brecheisen