If you're a die-hard Bruce Springsteen fan like myself, no doubt you've studied your bank account several times this year trying to figure out if you have enough dosh to fly to New York for the express purpose of seeing The Boss' extremely hyped one-man stage show, Springsteen on Broadway.
[jwplayer uhR6V6TN]
And if you're anything like me, you probably realised that in no way, shape or form can you actually afford to do that.
But never fear – you'll actually be able to see Brucie in your own lounge room. Not in the actual flesh, unfortunately, but the next best thing: via your Netflix account. The streaming giant has announced that Springsteen on Broadway will be available for you to watch / sing along to / cry over from December 15 – the same night it wraps up its Broadway run after 236 performances.
The show opened in NYC last October and features the legendary muso sharing stories from his life and playing the songs inspired by his experiences. It's obviously been a huge hit and even scored Springsteen his first Tony award back in June.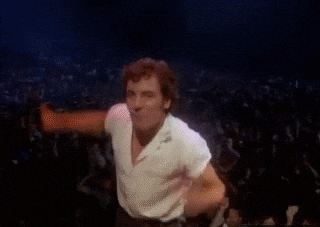 Tickets to the last few shows are popping up on US resale sites for around USD$1,500, so between that and the flight over there, Netflix is saving you some serious cash.