Over the spookiest witching time of the mortal year, we have been treated to the first two glimpses of the upcoming series of What We Do In The Shadows series from two of our favourite funnymen from New Zealand, Taika Waititi and Jemaine Clement.
Expected to be a continuation/further exploration into the vampires who inhabit the NZ town of Wellington, the series seems like it's going to take a look at the wider blood-sucking community.
In the first of the two teaser trailers, we see two vampires, Laszlo and Nandor (played by Matt Berry and Kayvan Novak) awaiting their virginal guests to arrive with their familiar, Guillermo (played by Harvey Guillen.)
It turns out this vampire sharehouse is just as terribly awkward about being hosts as the ones we met in the 2014 film.
The "fingers crossed" quip is so good here, it took me a hot second to remember that a way to ward off evil (and especially vampires) is to hold your fingers up in the shape of a Christian cross. So the dark humour is definitely still there.
In the second trailer, we see Novak in his full vampiric dress trying to buy groceries from a supermarket, and in an attempt to complete this absolutely menial task, he tries to pay for it with ancient coins, flicking one at the checkout staff. Then swiftly demanding Guillermo stab the cashier dead when his outdated money is refused.
Considering the supermarket looks like it's set in the US – the balance comes up to $82.49, and the staff member has a strong American accent – it's going to be interesting to see if the series ventures out of Wellington and into the lives of vampires living in sharehouses across the world. No word yet on whether we get to see the werewolves, not swearwolves, again. Or if Jemaine Clement, Taika Waititi and Jonathan Brugh will be reprising their roles as Vladislav, Viago, and Deacon.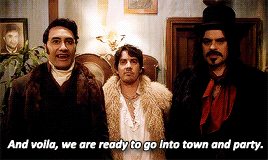 What We Do In The Shadows is slated to premiere on FX in the US in spring, which is our autumn. FX in Australia folded as a Foxtel channel earlier this year, but Showcase has been picking up some of the bigger names for broadcasting and streaming over here so fingers crossed (not in an anti-vampire way) that we'll get the 10-part spinoff series next year.