Younger fans, I've got good news for you: we'll be getting fresh episodes of the sitcom from June 6, when Season 5 premieres on Stan.
Okay, so it's only March currently and June seems like an awful long time away, so I've done some digging on the Internet for you (and me, lets be real) and unearthed some precious dirt on the new season.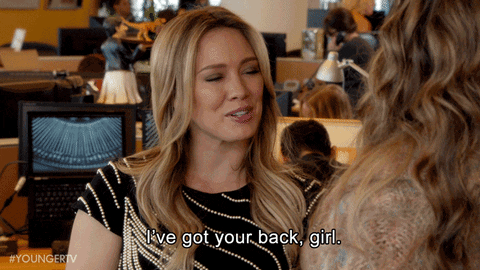 For a quick catch-up, you may recall that Season 4 ended with Josh (Nico Tortorella) getting married in Ireland to that girl he had known for approximately 0.3 seconds. It was stupid and it was infuriating, because he and Liza (Sutton Foster) are CLEARLY STILL HOT FOR EACH OTHER.
But then there's the added complication of Liza's burgeoning relationship with her boss Charles (Peter Hermann) who she is also hot for.
Honestly, Liza has extremely First World Problems: too many hot dudes to be in love with and the added curse of being 40-something but looking 26. It's hard to feel sorry for this woman.
Anyway, the cast gathered for a table read this week, which is actually a bit weird and awkward but what it DOES give us is a sneaky peek at the script for next season, in which Josh the newlywed is back from the Emerald Isle and all up in Liza's DMs.
Only problem is, because she's 40 and so ~ over the hill ~, she has no idea what a DM is. Honestly, this woman's life is blessed.
Take a look at the table read right here: