The Queen's Gambit on Netflix has been an absolute delight to watch, and Anya Taylor-Joy has truly proven that she can act the house DOWN. Turns out all those chess stares weren't for nothing, as Netflix has announced that the show is officially its most-watched scripted limited series ever.
Yep, a whopping 62 million households tuned in to watch the queen and her gambit in its first 28 days, and no, we're not talking about The Crown. However, it turns out that The Queen's Gambit has done much more than pull in the big numbers.
According to stats, the series may also be responsible for a full-blown chess resurgence around the world, especially here in Australia.
First off, and I am completely responsible for this statistic as well, the Google results for 'chess' have doubled in Australia since the release of the show.
Whod've thunk 'Chess' would be so popular again?
Searches for 'how to play chess' have also hit their peak for the first time in nine years. Who knows what was happening in 2011, but hey, that is some impressive stuff.
On top of this, the original book that the show is based on, written by Walter Tevis in 1983, has now jumped right back onto The New York Times bestseller list, despite being released 37 years ago.
But hey, what about the actual game itself? Are people playing it more? Well, yeah, they are. Deep inside we all want to be Beth Harmon, (minus the whole roof hallucinations thing).
Chess.com, a site that allows users to play against real people online, has recorded a fivefold increase in its player base, which is massive. Just today there were over seven million games played, which probably has something to do with how accessible it is. Now everyone can live out their strategic chess-God fantasies.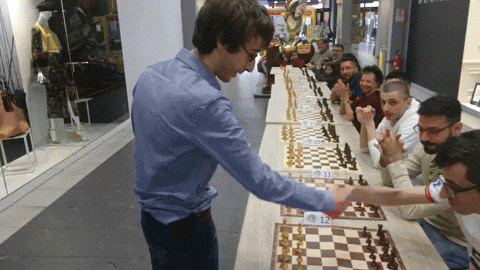 'Chess Set' searches on eBay have also increased by 250%, implying that those who do not desire the online luxury of it all, want to feel the power of the pieces in their very own hands.
Elizabeth LoVecchio, Vice President of toy company Spin Master, who sell chess boards across the world, told NME that the increase in sales has been completely "unprecedented."
"Ever since The Queen's Gambit launched, our chess sales have increased triple digits," she said.
I for one am totally here for the chess resurgence. If you need me I'll be practising my Vladimirov's Thunderbolt.
Image: Netflix / The Queen's Gambit