Need an introduction to Paris nightlife? Look no further than our party-chasing Contiki Insiders Marie Vinay and Cloé Bailly. Marie and Cloé are two Parisian girls working between Sydney, Los Angeles and Paris who split their time between filmmaking, art directing, party planning and journalism. For the record, yes we do want their lives. After having brought you Part One of the girls' guide to the late night haunts and hot spots of Paris, we're pleased to bring you the second instalment of Marie and Cloé's Clubbers Guide To Paris: Part Deux – The 11th Arrondissement.
Not far from the hyperactive 10th district, the Canal Saint-Martin area is a trendy haven of peace where we like to hang out. A bunch of nice restaurants and cool cafés keep on popping up, accompanied by a new creative young scene. In the daytime, grab a latte at Ten Belles, walk along the Canal (careful: it gets super crowded when the sun comes out), or chill on Café Prune's terrace.
This neighbourhood is full of secret spots and hidden places. Let us show you the way!
LE COMPTOIR GÉNÉRAL
Behind the boring metal gate hides an unusual and exotic temple. Escape from the grey Paris in a flash: world music, Bissap cocktails, wild plants, African flags on the walls, vintage furniture. Le Comptoir Général, the self-proclaimed "Ghetto Museum", looks like a gigantic African beach hut. Or an abandoned Cuban hotel. In any case, you have to see it for yourself. This is not an option.
Tip #1: Don't go too late to avoid queuing.
Tip #2: And try the "Secousse" cocktail.
Le Comptoir Général is also a café, a restaurant, a gallery space, a bookshop, a vintage shop, a concept store and pop-up cinema. You just can't get tired of it.
Address: 80, Quai de Jemmapes, 75010
Hours
: 11:00am – 1:00am, Monday – Sunday 
Website
: 
www.lecomptoirgeneral.com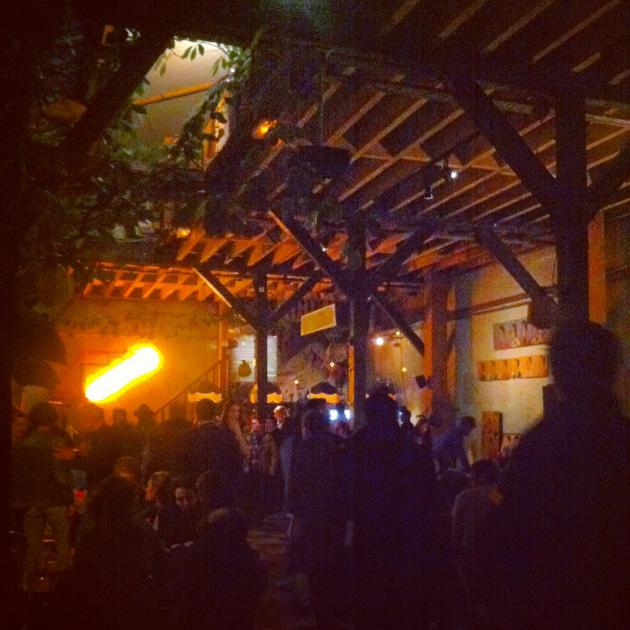 LE PERCHOIR
This rooftop bar opened last July and it's already an absolute must.
Try to get there early enough to have a table. Once up there, you can enjoy the amazing panoramic view of the city while sipping your organic wine amongst a super trendy crowd. The place is perfect for a meeting with friends; it's even better for a romantic rendezvous beneath the Parisian sky. Take your date to the level below if you want to make an impression: the Mediterranean-inspired menu is always a hit.
Careful though – the restaurant is reservations only.
Address: 14, rue Crespin du Gast, 75011 
Hours
: Opens at 4pm

Phone
: +01 48 06 18 48
Website
: 
www.leperchoir.fr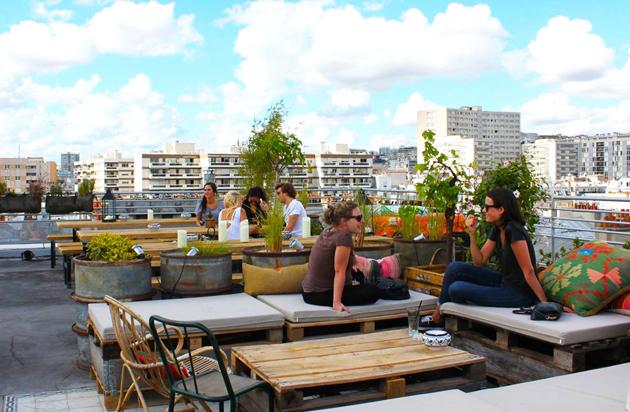 L'AVE MARIA
Weirdly enough, the Ave Maria is not that well known, but this is good news; you can enjoy your mojito without being shoved around like in most of the cool-kid bars in Paris. Here, we love the South American vibe, the eclectic jungle-like deco, the fruity cocktails and the exotic dishes. Oh, and the people are not too shabby either.
Address: 1 rue Jacquard, 75011
Hours: Sunday – Tuesday, 6:00pm – 1:00am; Wednesday – Friday 7:00pm – 2:00am; Saturday 7:00pm – 1:00am
Phone: +33 1 47 00 61 73
THE SUNKEN CHIP
This is another one of our new favourite places. Only recently opened last September by the L'Inconnu's guys, The Sunken Chip (what a fantastic pun) is a fish and chips joint where cool kids stuff themselves with quality street food. Nicest crew in town, fresh fish, delish mushy peas, yummy fries, 100% British sodas. Long live England, and long live the Sunken Chip!
Address: 39 rue des Vinaigriers, 75010 
Hours: Wednesday – Sunday 12:00 – 2:30pm, 7:30 – 10:30pm 
Phone
: +33 1 53 26 74 46
Website
: 
www.thesunkenchip.com
 and 
Facebook
Tip: We wouldn't really recommend clubbing around the Canal Saint-Martin, although a little pub-crawl rue Oberkampf can be fun from time to time. And you should also check L'International or the Nouveau Casino's line-ups as they have good gigs.
LE BARON
So if you really want to party, take a cab and head towards Le Baron, the hottest club in the Parisian hype where regulars like to mingle with VIP. It's a real Parisian classic.
Order a Baron (be warned, one is enough to make your head spin), flirt around, and shake your booty with eastern European models until the sun rises.
Address: 6 Avenue Marceau, 75008 
Hours: Every day 11pm – late
Website
: 
www.clublebaron.com
LE MONTANA
Le Montana is Paris' other super select club. Models, designers, fashionistas and people from the cinema industry come here to dance on mainstream (but catchy, let's admit it) tunes.
The guys at the door are a little tough some nights. Just put your super confident face on and you'll get in (or not?). Good luck!
Address: 28 rue Saint Benoît, 75006
Hours: Open daily from 11:00pm – 5:00am
FYI: both the Montana and the Baron are owned by André Saraiva, the coolest graffiti artist in town. You should check his other clubs all over the planet.