HBO has teased forthcoming Game of Thrones spinoffs but have provided fuck all details, leading fans to wonder which OG characters will live on.
The controversial series finale left the door open for several characters to be spunoff, including Sansa Stark but sadly Sophie Turner isn't keen on the idea.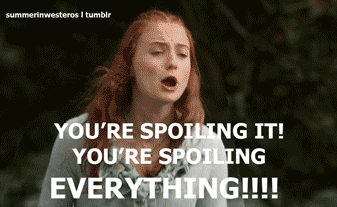 Speaking to Sky News, the actress said she's done playing your girl Sansa.
"I think it's time to say goodbye to Sansa," she explained. "I'm ready…ish, to say goodbye to her. I think my watch has ended. It's been 10 years of my life and the best 10 years of my life by far. I finished in a very happy place with Sansa and it's time to let her go."
She goes on to say that reprising her role as Sansa would be a traumatic experience which is dramatic but fair.
"I feel like if I played her again it would be just be more trauma," she said.
She's certainly singing a different tune than she was when she along with co-star Maisie Williams were asked about starring in a spinoff about the Stark sisters.
"Oh, I would sign up for that!" Williams told E! News."I would sign up for that, I wouldn't sign up for any other spinoff. I wouldn't sign up for any other spinoff unless Maisie was in it," Turner said."Nice, me neither," Williams said.

"And no one else," Turner added.
Clearly she was only kidding because it looks like Sansa Stark has officially left the building.