PEDESTRIAN.TV has partnered with Marvel Studios to celebrate the release of Black Panther: Wakanda Forever, in cinemas now.
When Black Panther hit cinemas in 2018, its cultural impact was instant and intense. It was a box office success and became the first Marvel Cinematic Universe movie to win an Academy Award — actually, three Academy Awards if you're keeping count…
Four years on, the eagerly anticipated sequel has just hit cinemas and hones in on the female characters this time around.
Following the tragic loss of actor Chadwick Boseman, we pick back up in Wakanda one year after King T'Challa's death. We follow the women, from Queen Ramonda (Angela Bassett) and Princess Shuri (Letitia Wright), to T'Challa's ex-girlfriend Nakia (Lupita Nyong'o), General Okoye (Danai Gurira), and the Dora Milaje, grappling with grief.
As they fight to protect their home from a new enemy, we see two tech-savvy women take control. While the role of a genius driving cutting-edge technology has always been a staple of the superhero genre, it's a space that's always been dominated by male characters.
So, let's unpack the role of the tech genius and how Black Panther: Wakanda Forever is starting to change that…
Shuri stepping up
It's a common trope to have a tech-savvy sidekick that guides a superhero to victory. In fact, it's so common that it's literally referred to as the 'guy in the chair'. And since Tony Stark's sacrifice in Avengers Endgame, we haven't had a clear tech genius stepping into his hefty shadow to support the rest of the gang…until now.
In the original Black Panther movie, Shuri was Wakanda's chief inventor and tech leader. Fulfilling this sidekick trope, she developed equipment for her brother, like his silent sneakers, and even helped guide him to the vibranium suit.
But she's moving into the limelight. She's so brilliant that the directors of Avengers: Infinity War, Joe and Anthony Russo, dubbed her the smartest character in the MCU. And now, in the wake of losing her brother, Shuri is picking up the crown while continuing to be the brains behind Wakanda's advanced tech. A lot on her plate!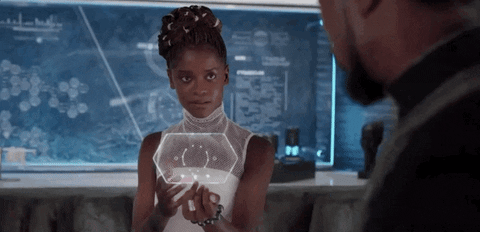 Introducing Ironheart
But Shuri isn't the only tech genius in Black Panther: Wakanda Forever. We also get a first glimpse at Ironheart, or Riri Williams (Dominique Thorne).
For fans of the Marvel comics, they'll be familiar with Ironheart who is a classified 'super-genius'. Same, girl. But for the rest of us, we're introduced to 19-year-old college student Riri in the latest film. She's an inventor and gear-head who's reminiscent of Tony Stark in that she creates super-powered suits. In fact, she even builds her own version of the Iron Man armour.
Just cop a load of her tinkering up a storm in the trailer…
As the final film in the MCU's fourth phase, we're hoping Shuri and Ironheart are just the start of a new era of female tech geniuses set to take over.
Catch Marvel Studios' Black Panther: Wakanda Forever in cinemas now.
Image: Black Panther: Wakanda Forever