Yesterday I wrote a very depressing yarn about all the shows that have been shitcanned recently (including Suits, Criminal Minds and Luke Cage *sobs*) but today I'm coming atcha with some exciting television news: Riverdale and Jane The Virgin are copping spin-offs.
The CW has announced that pilots have been ordered for both Katy Keene (the Riverdale spin-off) and Jane the Novela (the Jane the Virgin spin-off).
Riverdale/Chilling Adventures of Sabrina mastermind Roberto Aguirre-Sacasa is delving even deeper into the Archie Comics Universe to develop yet another show, a musical series based on the comic-book character Katy Keene.
The musical dramedy will tell the story of Katy, a model, actress and singer who aspires to become a fashion designer in New York City.
The #Riverdale universe expands! Thrilled to be bringing the adventures of Katy Keene and her New York pals to life! Extra-thrilled to be doing this with my pal Michael Grassi @thatthingofwhen! ❤️????????????????????????????????????????????‍???? pic.twitter.com/NsM82bv1AE

— RobertoAguirreSacasa (@WriterRAS) January 24, 2019
And as for the highly anticipated Jane the Virgin spin-off, Jane the Novela will be a telenovela anthology series in keeping with the vibe of the OG series where each season is based on a different fictional novel "written by" Jane Villanueva (Gina Rodriguez) and narrated by the author herself.
The first instalment takes place at a Napa Valley Vineyard, where family secrets and ~certain~ family members come back to haunt our leading lady.
The series will be written by JTV writer Valentina Garza, who will also executive-produce alongside Rodriguez and showrunner Jennie Snyder Urman.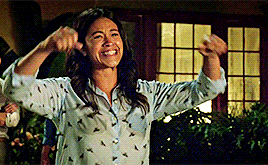 And that's not all, folks!
The CW also ordered a pilot for a series called The Lost Boys, based on the film, with a logline that reads:
"Welcome to sunny seaside Santa Carla, home to a beautiful boardwalk, all the cotton candy you can eat… and a secret underworld of vampires. After the sudden death of their father, two brothers move to Santa Carla with their mother, who hopes to start anew in the town where she grew up. But the brothers find themselves drawn deeper and deeper into the seductive world of Santa Carla's eternally beautiful and youthful undead."
And lastly, the network's final pilot order is an untitled Nancy Drew project which is set in the summer after Nancy's high school graduation, when the 18-year-old plans on heading to college until a family tragedy strikes, forcing her to quit college and instead focus on a ghostly murder investigation.
Noga Landau (The Magicians), Josh Schwartz (The O.C., Gossip Girl) and Stephanie Savage (Gossip Girl) will serve as writers and executive producers on the series.
Good times ahead, fam.