It seems like every goddamn show and flick from the past few decades is copping a reboot or revival of some sort and Parks & Recreation fans are desperately awaiting their turn to see their heroes return to the screen.
[jwplayer B1lpeAaE]
For those people I have both good news and bad news.
The bad news: It won't be happening any time soon.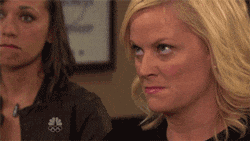 The good news: Mom and dad, Amy Poehler and Nick Offerman are keen as mustard for it to happen.
The cast of the beloved comedy series reunited at PaleyFest where they were probed about a potential revival and their responses kinda provided a beacon of hope for a potential comeback.
When asked by Variety if she's about to announce a revival, Poehler responded, "No, we're not. Mike Schur is currently working on about five shows but whenever he's ready, I'll put my suit on, for sure."
She adds that she'd lurve to see how Leslie would deal with the Trump Administration.
"I feel like Leslie is, dare I say it, like a public servant Spider-Man," she said. "It's like, help us Spider-Man, where are you?"
Amy Poehler on a #ParksandRec revival: "Whenever Mike [Schur] is ready, I'll put on my suit again" pic.twitter.com/bSu1Q2teWG

— Variety (@Variety) March 22, 2019
And as for Offerman, he said that if there is a reunion in the works, he certainly hasn't been informed about it yet.
"If there is an announcement, no one has informed me of it, which doesn't mean there isn't an announcement," he joked. "I'm not known for being trustworthy with secrets but I hope there's good news."
When asked if he'd be down to revisit his character, he responded, "Oh yeah! Mike Schur wrapped it up because he loved the story that he told from start to finish."
Offerman adds, "He'd have to come up with a pretty original new idea for him to wanna do it again and if he did, I think we'd all come running."
Nick Offerman says that if #ParksandRec creator Mike Schur came up with an idea for a revival, "I think we'd all come running" pic.twitter.com/icfBNGX2gZ

— Variety (@Variety) March 22, 2019
Aubrey Plaza, however, was giving off extreme IDGAF vibes and when asked if a reunion was imminent, she said, "I don't know. I just go with the flow."
"Why remake something that was already good?" She adds. "It's too soon for that, I've got shit I wanna do."
Aubrey Plaza isn't ready for a #ParksandRec revival: "I'm working on some things" pic.twitter.com/3drQpmqHPy

— Variety (@Variety) March 22, 2019
Nevertheless, Poehler and Offerman have put positive energy out there and as a big believer in manifestation, I reckon there's still hope for us, yet.
Meanwhile, all of Parks & Rec is currently streaming on Stan so head on over to relive the good times.