While LGBTQIA equality has a long way to go, it's important that we stop and recognise the progress we've made in terms of inclusivity, particularly on our TV screens.
It wasn't that long ago when gay, bi-sexual and transgender characters were only ever included in shows as token minor characters, nowadays, there are loads of series that are told from a queer perspective.
Among the wide variety of shows that cater to the queer community and invite allies along for the ride is long-running sitcom Will & Grace, returning drama series The L Word: Generation Q, the brand new Work In Progress and, of course, the plethora of RuPaul's Drag Race iterations.
With a new season (or in the case of Mama Ru, an entire new spinoff) for each of the above out now on Stan, we're celebrating all the stellar queer content available to stream.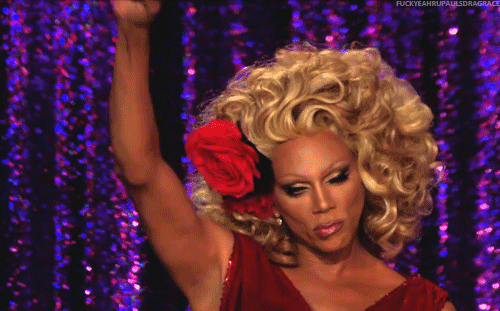 Honey! After 11 fabulous seasons filled with more laughs than Karen (Megan Mullally) had martinis, Will & Grace is finally ending and believe us when we tell you that they're going out with a bang.
The final season, which is now streaming on Stan, sees your main girl Grace (Debra Messing) getting knocked up and her hilariously wicked mates constantly zinging her with hilarious jokes but ultimately being there to look after her.
Will & Grace has always been able to nab A-list talent and the finale is no different.
In the last season, you'll see a host of epic guest stars including Demi Lovato, Joel McHale, Ryan Phillippe, Gus Kenworthy and Billie Lourd, the granddaughter of the late Debbi Reynolds who played Grace's mother Bobbi Adler (bless!).
The iconic sitcom returned in 2017 and earned an incredible 18 Emmy Awards (including Outstanding Comedy Series) and seven SAG Awards.
It's also one of the few shows in TV history where each member of the cast won an Emmy and deservedly so, I say.
Catch the final season of Will & Grace on Stan now to end the era, then go back to season 1 and binge-watch it from the very beginning.
It's one of the most iconic LGBTQIA television shows of all time and after a 10-year hiatus, the ladies of The L Word are back with a brand new series called The L Word: Generation Q.
The 2019 rendition of the show has just arrived on Stan, which is the best Chrissy gift we could've asked for.
A bunch of your favourite characters are back for a new adventure, including Bette Porter (Jennifer Beals), Alice Pieszecki (Leisha Hailey) and Shane McCutcheon (Katherine Moennig), along with new characters Dani Nùñez (Arienne Mandi), Micah Lee (Leo Sheng), Finley (Jacqueline Toboni), Sophie Suarez (Rosanny Zayas) and Gigi (Sepideh Moafi).
The action has shifted from West Hollywood to Silver Lake, where the new generation are thriving and living their best lives.
The series showcases the progress the community has made since we last saw the ladies, including gay marriage, as Sophie and Dani are getting engaged, and trans rights, as seen in the character Micah who is a trans man.
As I wrote earlier, we still have a long way to go in terms of LGBTQIA inclusivity, but seeing the entire community reflected on the show is a huge step in the right direction which is why it's a must-watch.
The show first premiered 15 years ago and ran for 71 episodes over six seasons between 2004 and 2009.
It received critical acclaim for its groundbreaking material and spicy, well-written storylines that had us all hooked. A few of the actresses also received Emmy nominations for their performances.
There was nothing quite like it at the time and to be honest, there hasn't been anything quite like it since so I reckon it's defs time to revisit the series.
The L Word: Generation Q is now streaming on Stan, along with all six seasons of the OG.
Catch the trailer below:
All you have to do is look at the success of Seinfeld and The Other Guy to know that when comedians craft scripted TV series, comedy gold occurs.
And here we have a show created by legendary queer comic Abby McEnany and ladies and gents, it's going to be your newest obsession.
Work In Progress follows McEnany, a self-described "fat, queer dyke from Chicago" whose shitty luck results in an unexpected relationship.
Chicago-based performer Karin Anglin co-stars alongside Celeste Pechous, with Julia Sweeney (Saturday Night Live) also appearing in a crucial role as herself.
Speaking at a panel at Showtime's TCA, McEnany explained that the inspiration behind the series was to spotlight issues that the LGBTQIA community face, including something as simple as using the bathroom.
"To be 51 and scared of using a public bathroom, confronted, stared at, it like permeates my life," she said, according to Deadline. "It's rough. It's a bummer."
The Hollywood Reporter praised the fact that the show has "a darkness on the surface and real sweetness and humour at its heart."
THR adds that the "appealing chemistry" between its lead characters is unlike anything that has been seen before on television and it's high time that we finally see it.
The first episode just premiered exclusively on Stan, the same day as the U.S., so go check out this major breakthrough in queer inclusivity.
This list wouldn't be complete without a big 'ol shoutout to Mama Ru and all the strides (or should that be sissy walks?) she's made for the community.
RuPaul's Drag Race first sashayed onto the scene way back in 2009 and while it was hella popular back then, who could've predicted what a powerhouse it would ultimately grow into?
The OG series has spawned 11 seasons, with a 12th announced a few months back and our bussies are tingling in anticipation.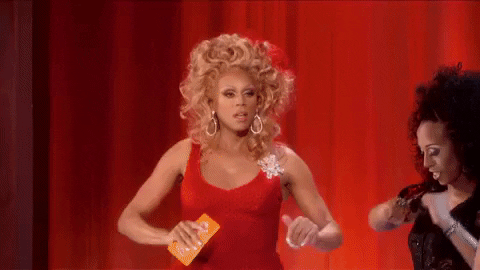 And the franchise is showing no signs of slowing down, either.
In the last 12 months alone, we've been blessed with new seasons of RuPaul's Drag Race, RuPaul's Drag Race: All Stars, the RuPaul's Drag Race Holi-Slay Spectacular, the recently renewed RuPaul's Drag Race UK and the much loved Drag Race Thailand.
RuPaul always ensures that the queer community is being represented via the many, many incarnations of the show and we legit cannot get enough.