Kim Kardashian might be totally dominating the celebrity-sphere at the moment but there will come a day when she logs out of her reality TV / beauty boss / social media life in favour of a more profesh career.
[jwplayer WN6Q3XAn]
It's no secret that the mother-of-three (soon to be four!) is studying to become a lawyer and in the new episode of Keeping Up with the Kardashians, she admits that her plan is to eventually pursue her legal career full-time and leave Hollywood behind.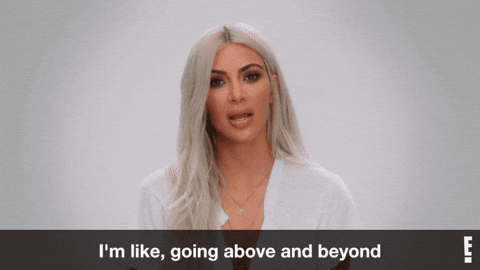 In the ep, she begins by explaining that her interest in criminal law came about after her father, the late Robert Kardashian, became a household name when he helped defend friend O.J. Simpson during his infamous 1994 murder trial.
"I told my dad years ago that I was really into criminal justice and he was like, 'This will stress you out so much, you do not really want to take this on,' " she recalled. "I think now having gotten so deep in helping Alice [Marie Johnson], I'm really motivated to get to know the law more and fight for people who deserve a second chance like her."
"I remember in the OJ case, I would go be going through it and Kourtney would yell at me: 'Stop going through all of dad's stuff!'" she continued. "She was so upset, but I think he would be really proud of me. My dad always taught me that hard work is really important and to really commit to things, so my goal would be in like, 10 years, to give up being Kim K and just focus on this and be an attorney and fight for so many deserving people."
"It would be really interesting and fun to have his Robert Kardashian plaque that I saw on his desk every day growing up and to have mine right next to it," she added.
Although Kardashian attended Pierce College in Los Angeles for some time, she never actually finished her degree. However, her native California offers another path to passing the bar by "reading the law," or apprenticing with a practicing lawyer or judge.
If Kardashian passes the "baby bar" this year, she will be allowed to continue for three more years of study.
"I'm dealing with my three kids, I'm dealing with my career, the fourth baby coming and the stress of law school," she said. "Just because you do an apprenticeship does not mean that it's anything less — I mean, you have to put in 18 hours a week. It is a full commitment. I won't have time for events, for favours, for friends, for literally anything, for four years."
"I'm not afraid to work hard," she added. "It's going to be really hard but it's also really important to me to keep this quiet for a while so I can stay committed and focused."
In this house we stan a girl boss, no matter where she comes from.