To sign up for our daily newsletter filled with the latest news, goss and other stuff you should care about, head HERE. For a running feed of all our stories, follow us on Twitter HERE. Or, bookmark the PEDESTRIAN.TV homepage to visit whenever you need a news fix.
When it was first announced that a Joker movie, completely separate from the existing DC cinematic universe, was in the works, I was low-key skeptical.
While Marvel films have absolutely soared to great heights, filmmakers just can't seem to get it right when it comes to adapting DC comics into movies (barring The Dark Knight and Wonder Woman, of course).
But based on the eight minute standing ovation that ensued after the film debuted at the Venice Film Festival, I'm thinking they've finally gotten it right.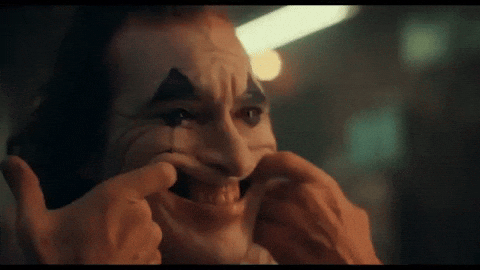 Variety reports that the premiere of Joker at the high brow film fest drew an eight-minute standing ovation for actor Joaquin Phoenix, director Todd Phillips and the villainous flick that has since scored rave reviews from critics.
"This is Phoenix's film," declared The Hollywood Reporter, "and he inhabits it with an insanity by turns pitiful and fearsome in an out-there performance that's no laughing matter."
The LA Times also praised Phoenix's performance, writing that he "delivers the kind of meticulously detailed psychotic breakdown that he does better than just about any American actor now working."
Joaquin Phoenix's performance in #JokerMovie is nothing short of Oscar-worthy. He fully commits to the role mentally and physically. Todd Phillips delivered a game-changing comic book film, and I cannot wait to see it again. #Joker pic.twitter.com/cnrL9bsdR2

— Michael Parks (@DorianParksnRec) August 31, 2019
The Wrap noted that Phoenix relies on physical acting to portray the iconic bad bloke as he's "never not twitching or laughing", two physical traits that previous Joker actors have taken on before him such as Heath Ledger in The Dark Knight.
"If you like an actor who disappears into a role and effects what appears to be organic human behaviour on the screen, this is not your jam," the reviewer wrote.
"Phoenix puts the 'perform' in 'performance" he's never not twitching or laughing…or hyperventilating or dancing. Some will love it and some will look askance, but he's definitely doing the kind of work that fits the tone of the film."
I've seen #Joker and I fully endorse @JimVejvoda's decision to give it our first film review 10/10 of the year. I haven't stopped thinking about it. https://t.co/DjD1hi8LFm

— Terri Schwartz (@Terri_Schwartz) August 31, 2019
Joker hits cinemas on October 3.