We're currently in the age of nostalgia where there are reunions and reboots up the yin yang much to either the delight or ire of their fandoms, so the news that Jim Carrey wants nothing to do with an Ace Ventura follow up will either perk you up or piss you off.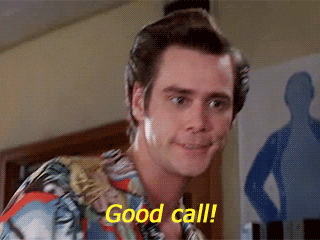 Carrey's Ace Ventura: When Nature Calls costar Tommy Davidson (who played Tiny Warrior in the movie) told Us Weekly that potential plans to make another movie have been scrapped as its lead star is no longer keen.
"[Carrey] doesn't want to do it now. But Jim is one of those kind of artists that, you know, he does what he feels, he does what he believes in. I asked him about it. I told him, 'Hey man, it'd be nice in Jamaica.' He said, 'No I'm not doing those now'. And you know, that's like going on the field and going, 'Hey, Tom Brady, I think you should throw this over to…' No!"
Carey (left) in Ace Ventura: When Nature Calls with Davidson (right)
Davidson went on to tell the publication that he and the Liar, Liar star still keep in touch.
"We're friends. We're all like a fraternity. We're still here, we're still the same. We're still the same crazy … get us together and watch what happens. We're happy about what we were able to do," he said before adding, "We're happy about what it did to people."
The comedian played the iconic '90s character in both Ace Ventura: Pet Detective and Ace Ventura: When Nature Calls films which was later turned into a cartoon that aired from 1995 to 1997 on CBS and on Nickelodeon from 1999 to 2000, which Carrey was not involved in.
But what we can ascertain from Davidson's comments is that it's not 'no forever', it's just 'no for now'.
Stay tuned…