This wee little thing by the name of Comic-Con San Diego is presently taking place, unleashing fresh content and a lot of feels upon fans lucky enough to score tickets to the monstrous event.
[jwplayer lZz40r8W]
Earlier today,  Andy Samberg, Melissa Fumero, Stephanie Beatriz, Terry Crews, Joe Lo Truglio, Chelsea Peretti, Dirk Blocker, and Joel McKinnon Miller of the aggressively popular Brooklyn Nine-Nine took to the stage to discuss the series and Season Six, recently saved by the good people at NBC. 
(Earlier this year, FOX screwed up and cancelled the show sparking global outrage but let's not relive that nightmare.)
Excellent showrunner Dan Goor and executive producer Luke Del Tredici were also on the panel to chat details and though they didn't give much away, Goor did dangle some tasty morsels from the upcoming season.
Per Variety Goor said:
"The writers' room is up and we are five weeks into our pre-production.
"We've got a bunch of scripts; we've got a bunch of stories; it's going to be good." 
One of these stories – an entire episode – will be about our favourite most-of-the-time-useless but incredibly talented eaters, Hitchcock and Scully. 
"There's a fun Hitchcock and Scully episode coming up.We might see them in their past at some point," Goor said.
Guys, just imagine an entire episode of this… but potentially with more hair: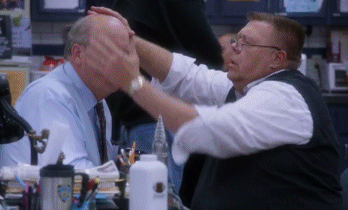 We do not deserve them.
As we know, Hitchcock and Scully are well… sort of out of their prime. They've done their years and caught a bunch of baddies so now they're cruising.
A flashback episode of a competent Hitchcock and Scully would be an out-of-body experience.
And…AND we might actually find out who Kelly is – Scully's wife or dog.
During the panel's Q&A, the show was praised for its Latinx and bisexual representation, the latter based on Beatriz's own life. A lot of love was also given to both Lo Truglio and Crews for their characters – openly sensitive men.
Also, proving once again just how loved these people are the entire cast were met with a standing ovation upon entry.
Please cry along with me:
What a beautiful cast!! Already a standing ovation!! #Brooklyn99 pic.twitter.com/kVWBhhHfF1

— seth 🏳️‍🌈🤜🥛 🤛🏳️‍🌈 (@pqdres) July 20, 2018
"Boyle is not afraid to show unadulterated affection. That's unusual for a male character but it's something the world needs to see." @JoeLoTruglio #Brooklyn99 #SDCC

— Stephanie Carr (@StephanieVCarr) July 20, 2018
"I'd see a shiny ponytail go by and I wasn't like "I wanna put that in my haaair", I was like "I wanna put that in my mouth" " @iamstephbeatz on realizing she was bi. 😂😵😂😵😂😵💀💀💀💀❤️❤️❤️❤️❤️ #Brooklyn99 #SDCC #IADOREHER

— Kraken the Book Witch 📚🧙🏻‍♀️ (@VictoriaNoir89) July 20, 2018
Both @melissafumero and @iamstephbeatz got emotional when a fan thanked them for portraying amazing Latina women #SDCC #brooklyn99 pic.twitter.com/mL8joC5gXf

— 4 Your Excitement (@4_Y_E) July 20, 2018
People in Indigo waiting for #BrooklynNineNine keep yelling "nine nine" at things and also airdropping gifs to me of the squad yelling "NINE NINE" this really is my home. Thank you #sdcc2018

— Slott the Trainwreck (@rachelslott) July 20, 2018
And finally:
Can we get a…? #Brooklyn99 #SDCC pic.twitter.com/F4EAHWQSeL

— Brooklyn Nine-Nine (@brooklyn99) July 19, 2018
NINE-NINE.
Season Six and its glorious thirteen episodes are slated for release 2019.